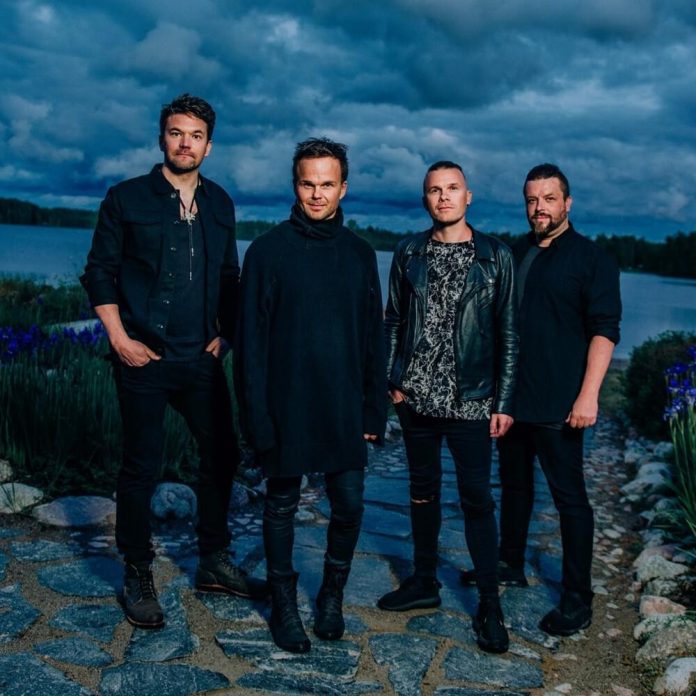 The Rasmus singer wonders why someone else "gets the girl, the Holy Grail" in the new song
September 14, 2018
Finnish romantic The Rasmus rockers have proven they still have blood in your veins with their emotional new track 'Holy Grail'. The single and the lyric video for it surfaced on YouTube already on September 13, a day before the scheduled release. Check out the song and its lyrics below.
Watch: The Rasmus howl at the moon in new song/lyric video, 'Silver Night'
The video was filmed in Tokyo by Jani Klemola and shows vocalist Lauri Ylönen walk unnoticed amidst the hustle and bustlle of the depersonified Aisian city. The singer wonders why he's always been "a stranger in a crowd", a ghost to his dream girl while someone else gets the pearls:
All by myself, all by myself
All by my ordinary solitary self
I still believe we live for the pain
And someday the stranger in the corner wins the game
And gets the crown
Gets the girl
The Holy Grail
A couple of weeks prior to the release Ylönen revealed that 'Holy Grail' was inspired by the band's recent long tour and is dedicated to those "mysterious figures at the back rows" – solitary fans at their shows:
[quote align="center" color="#COLOR_CODE"]"I wrote this song last spring, as we were on a long tour of Russia," says The Rasmus frontman. "During the journey I thought a lot of about loneliness. Sometimes I focus special attention on the fans in the audience standing alone in the back, where lights can't reach, and in some way I see myself in them."[/quote]
The Rasmus have just hit the road for a massive world tour Dark Matters. The Northern musicians will be playing Europe and South America till the end of the fall. The European tour leg opened in Moldova a few days ago and will continue soon with a show in Tallinn, Estonia on September 21 (get your tickets here).
Check out the upcoming tour dates below. And, of course, share your thoughts on the new song in the comments, and join AlteRock Facebook and Twitter to never miss on latest rock and metal news.
Dark Matters Tour 2018 Dates: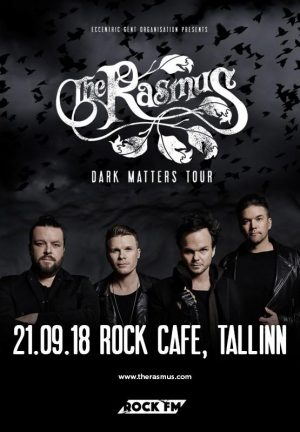 SEP 9 Must Fest 2018, Chisinau, Moldova
SEP 21 Tallinn, Rock Cafe, Estonia
SEP 23 Gdansk, Stary Manez, Poland
SEP 24 Wrocklaw, A2, Poland
SEP 26 Dresden, Alter Schalchthof, Germany
SEP 27 Erfurt, Stadtgarten, Germany
SEP 28 Eindhoven, Effenaar, Holland
SEP 29 Franfkurt, Batchkapp, Germany
SEP 30 Munich, Backstage Werk, Germany
OCT 2 Brno, Sono Centrum, Czech Republic
OCT 3 Kosice, Colosseum, Slovakia
OCT 4 Budapest, A38, Hungary
OCT 5 Linz, Posthof Zeitkultur Am Hafen, Austria
OCT 6 Salzburg, Rockhouse, Austria
OCT 8 Roncade, New Age, Italy
OCT 9 Milan, Alcatraz, Italy
OCT 10 Solothurn, Kulturfabrik Kofmehl, Switzerland
OCT 12 Lyon, Ninkasi Gerland/Kao, France
OCT 13 Strasbourg, La Laiterie, France
OCT 14 Karlsruhe, Substage, Germany
OCT 15 Dortmund, FZW, Germany
OCT 18 Norwich, Waterfront, UK
OCT 19 Newcastle, University, UK
OCT 20 Nottingham, Rock City, UK
OCT 21 Glasgow, Garage, Scotland
OCT 23 Manchester, Academy 2, UK
OCT 24 Bristol, Marble Factory, UK
OCT 25 Southampton, Engine Rooms, UK
OCT 26 London, Koko, UK
NOV 9 Buenos Aires, El Teatro Vorterix, Argentina
NOV 11 Sao Paulo, Tropical Butantã, Brazil
NOV 13 La Paz, Teatro al Aire Libre Jaime Laredo, Bolivia
NOV 15 Santiago, Club Chocolate, Chile
NOV 17 Quito, Antiguo Teleferico, Ecuador
NOV 19 Monterrey, Escena, Mexico
NOV 20 Monte De Humo, Teatro Metropolitano, Mexico
NOV 22 Guadalajara, C3 Stage, Mexico
NOV 23 Mexico City, Pabellon Cuervo, Mexico