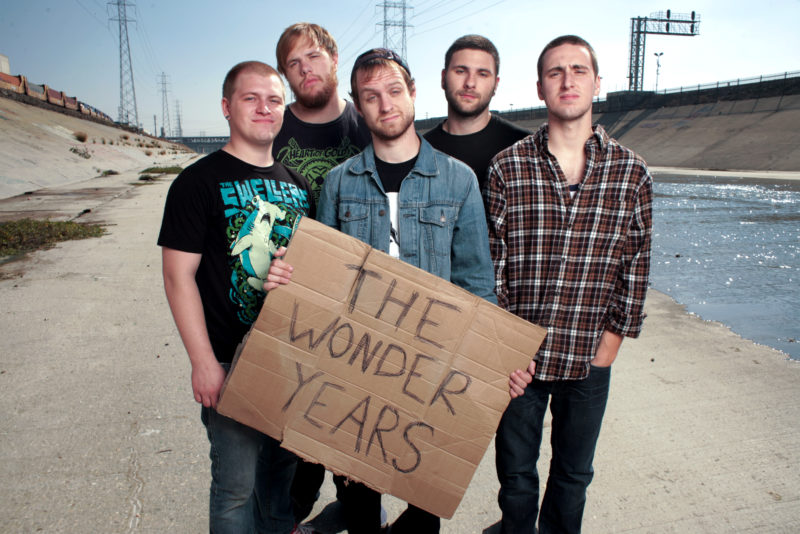 'Pyramids Of Salt' is taken from the band's upcoming album Sister Cities, due out this spring
March 8, 2018
While Eastern Europe is happily celebrating the International Women's Day today (March 8), Pennsylvania pop punk band The Wonder Years chose to release a song with a truly sad message. The track talks about feeling helpless sometime, realizing you can't always heal or protect the people you love. Be sure to listen to their new song, 'Pyramids Of Salt', below.
The track has landed on The Wonder Years' forthcoming album Sister Cities, whose release is scheduled on April 6. 'Pyramids Of Salt' pleasantly surprises with not-over-edited vocals, creating the atmosphere of a recording studio. At certain moments Dan Campbell, the band's singer, has the tear of Papa Roach's singer Jacoby Shaddix and Hinder's original vocalist Austin Winkler, which takes the track far beyond pop punk and adds sort of post-grunge mood to it.

From his description of the song, it's easy to see the message of the song is deeply personal for the singer.
[quote align="center" color="#COLOR_CODE"]"'Pyramids of Salt' is a song about knowing there's nothing you can do," says the frontman. "It centers around the universal feeling of being powerless, of knowing that no matter how much you love someone, that a day is going to come where you can't heal them, where you can't keep them safe."[/quote]
Can't wait to hear the band live this spring? Not long to wait before they hit your town, if you live in the U.S. The Wonder Years have just shared new tour dates in support of the upcoming album. They'll be joined by Tigers Jaw, Tiny Moving Parts and Worriers on the road. See the complete list of U.S. dates.
The Wonder Years Spring 2018 Tour Dates:
05/04 – Pittsburgh, PA @ Mr. Smalls
05/05 – New York, NY @ Playstation Theater
05/06 – Asbury Park, NJ @ House Of Indepents
05/08 – Greensboro, NC @ Arizona Pete's
05/09 – Nashville, TN @ Cannery Ballroom
05/10 – Atlanta, GA @ Masquerade (Heaven)
05/11 – Jacksonville, FL @ Maverick's Live
05/12 – Ft. Lauderdale, FL @ Revolution Live
05/13 – Orlando, FL @ The Beacham
05/15 – Houston, TX @ White Oak Music Hall
05/16 – Dallas, TX @ Gas Monkey Bar 'N Grill
05/18 – Tempe, AZ @ Marquee Theatre
05/19 – Los Angeles, CA @ The Regent Theater
05/20 – Anaheim, CA @ House Of Blues
05/22 – San Diego, CA @ House Of Blues
05/23 – Berkeley, CA @ UC Theatre
05/24 – Portland, OR @ Wonder Ballroom
05/25 – Seattle, WA @ The Showbox
05/26- Vancouver, BC @ Vogue Theatre
05/28 – Calgary, AB @ Macewan Ballroom
05/29 – Billings, MT @ Pub Station (Ballroom)
05/30 – Denver, CO @ Ogden Theatre
06/01 – St. Louis, MO @ The Ready Room
06/03 – Chicago, IL @ Concord Music Hall
06/05 – Pontiac, MI @ The Crofoot
06/06 – Toronto, ON @ The Phoenix Concert Theatre
06/07 – Worcester, MA @ The Palladium
06/08 – Philadelphia, PA @ The Fillmore
06/10 – Baltimore, MD @ Rams Head Live!