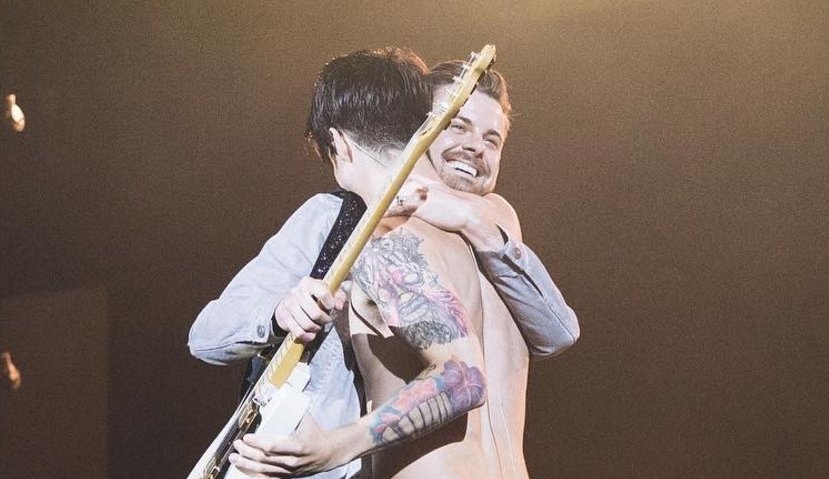 The band's former drummer Spencer Smith appeared at the show to give Brendon Urie a hug
August 8, 2016
Panic! At The Disco's recent show in Irvine, CA turned out to be an exceptional one. It was full of suprises as much for the crowd as for singer Brendon Urie himself. During the concert he was paid a surprise visit by the band's former drummer Spencer Smith.
More: PANIC! AT THE DISCO Officially Release 'Bohemian Rhapsody' for Suicide Squad
The drummer fetched Urie his guitar to start 'This Is Gospel.' The ex-bandmates gave each other a warm hug, and Smith then left the stage for the group to go on with the show. Watch this fan-recorded moment in the video below.
Smith was Panic!'s drummer on the band's first four albums:
A Fever You Can't Sweat Out
Pretty. Odd.
Vices & Virtues
Too Weird To Live, Too Rare To Die!
He parted ways with the band in 2015, leaving an open letter to fans, in which he talked about fighting his addiction.
Watch: BRENDON URIE Plays Role of Wedding Singer in LIL DICKY's Video 'Molly'
The night was crowned with Fall Out Boy's Pete Wentz going up on stage to wave the victory flag during Panic!'s performance of 'Victorious.' Share your thoughts in the comments, and join Alterock Facebook and Twitter to stay tuned for rock and metal news.
Last night in Irvine @TheSpencerSmith surprised @brendonurie and brought him his guitar for "This Is Gospel". pic.twitter.com/0FAwZpr9xS

— Panic! At The Disco (@PanicAtTheDisco) August 7, 2016
Also @petewentz came out and waved our victory flag for #Victorious #thankspete pic.twitter.com/gXR3IQ0sPk

— Panic! At The Disco (@PanicAtTheDisco) August 7, 2016