Finnish progressive rock band VON HERTZEN BROTHERS has announced that their new studio record is coming out March 20 via Spinefarm Records, and released the first single and the title song from the forthcoming album, NEW DAY RISING
January 29, 2015
The 6th album by Von Hertzen siblings, New Day Rising will pick up the baton from 2013′ studio record Nine Lives, which was nominated for Album Of The Year at the 2013′ Classic Rock Awards. In the recent interview to Classic Rock magazine, the band's frontman Mikko Von Hertzen shared some details of working on the material for the new record, saying that he had set the rule for every band member to follow: "Avoid the 12-minute song! If you have a good idea, make it a nice tight package and use the other ideas for other songs. Because of our nature we slipped a little from that, but this is going to be the most straightforward rock album we've ever done", claims Mikko.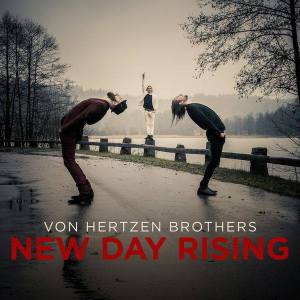 On January 21, Von Hertzen Brothers officially launched their new song 'New Day Rising', the first single from their upcoming 6th album of the same name (listen below). The new song, however, got unexpectedly onto the Finnish radio stations earlier than it was supposed to come out. The single is now officially out and it's been added to the playlists of UK rock radios as well. The music video, which has already been shot, will be released on February 10. This time, the location of the music video action is far from trivial: the shooting took place in Suomenlinna, one of the few Unesco Heritage sites of southern Finland.
The launch of the new album is scheduled for March 20 in Europe, March 23 in the UK and the following day in the U.S. This will be Von Hertzen Brothers' first worldwide release, and the band is ready to win the hearts of the U.S. listeners, too. On the same day of the European release, the Finnish part of the New Day Rising tour will kick off, followed by three UK headline gigs (London, Manchester & Nottingham) in April.
Find out more about the top-notch team VHB worked with while recording the album New Day Rising
Von Hertzen Brothers UK tour dates:
April 23 THE DOME, LONDON
April 24 RESCUE ROOMS, NOTTINGHAM
April 25 SLADE ROOMS, WOLVERHAMPTON
Featured photo:  ©  Ville Akseli Juurikkala Photography
[huge_it_slider id="1″]