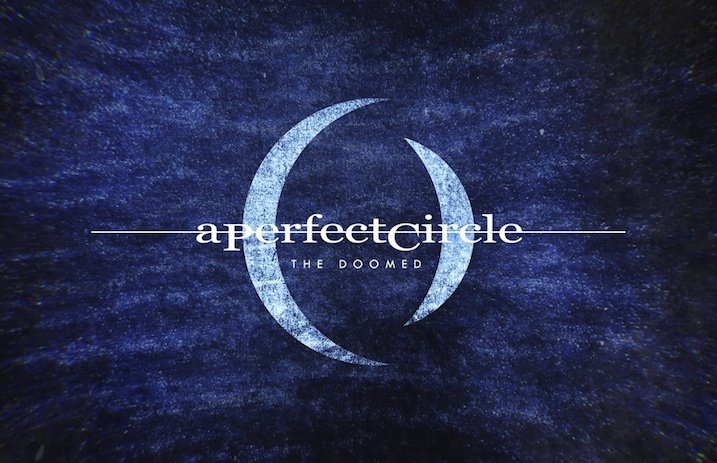 If the new song is any indicator of the band's new music direction, you don't want to miss their upcoming album
October 17, 2017
Earlier this year A Perfect Circle, the alt-rock band led by Tool frontman Maynard James Keenan, announced that they had started work on their first studio effort since 2004's eMOTIVe, which means the first record in 14 years. The release of the band's fourth album was expected later this year but was pushed to 2018. However, a new song from APC's upcoming record is already available!
Keenan and co. shared the track, titled 'The Doomed' last night, right at midnight (listen below). They first teased fans on Monday, when guitarist Billy Howerdel tweeted just one word: "Tonight." Following 2013's track 'By And Down', this is the first new tune from APC in four years. Now that the band have inked with BMG for an upcoming album, fans can't wait to hear new music from APC. In fact, last spring the musicians debuted some new songs live on their U.S. tour.
'The Doomed' is an exciting, industrial, accentuated track, which you won't be able to play as a background, doing something else. It steals your attention from the first seconds, making you wonder how come a band as talented as them could deprive the world of their original, saturated music for so long.
Watch: PUSCIFER shoot to death from slingshots in music video 'Money Shot'
How does it feel to be preparing a release in over a decade? "Fourteen years have passed since we released eMOTIVe," says Keenan. "A new release is long overdue. In light of this current difficult and polarized social, spiritual and political climate, we artist types need to open our big mouths and share the light a little louder."
It took the band such a long while for a reason. Keenan barely found time to sit down and write new stuff, because Keenan dedicates a lot of his time to playing in Tool, as well as his other project, Puscifer. In the meantime, Howerdel has been working with Ashes Divide, guitarist James Iha was involved in making a film, and bassist Matt McJunkins has been touring with Eagles of Death Metal.
"To be honest, I thought it would be a few years earlier," said Howerdel, earlier this year talking about the band's reunion. "There's so many scheduling things between all of us. Maynard's got a lot of projects going on, and it felt like a few years ago it was going to happen, but this is just the way the schedules lined up."
In January, when APC posted an on-sale announcement, they were overwhelmed with the reactions of their loyal listeners throughout the years, despite the band's absense from the music scene since 2014:
"To have that happen now is shocking, and I'm still humbled by it all the time," says Howerdel. "Years go by, and people still care and pay attention. There's always a little bit of, 'Oh, I hope people still remember.' I'm older. I have kids. I know a lot of my peers listen to more talk radio than they do music — and I'm probably no different. But there's certain things that stick with me from years ago, and I guess some people feel the same."
So you don't want to miss a chance to see Keenan and co. live, as the band are now on the road, with North American dates booked through early December. See the full list of dates below and tell us which show you're planning to attend. Share your thoughts in the comments, and join AlteRock Facebook and Twitter to stay tuned for rock and metal news.
More: TOOL vocalist, Maynard James Keenan, receives a purple belt in Jiu Jitsu
A Perfect Circle Fall/Winter 2017 Tour Dates:
10/21 – Sacramento, CA @ Aftershock Festival
10/23 – Colorado Springs, CO @ Broadmoor World Arena
10/25 – Albuquerque, NM @ Tingley Coliseum
10/26 – El Paso, TX @ Don Haskins Center
10/28 – Toluca, Mexico @ Knotfest Mexico
10/30 – Knoxville, TN @ Thompson-Boling Arena
11/01 – Fairfax, VA @ EagleBank Arena
11/02 – Brooklyn, NY @ Barclays Center
11/04 – Reading, PA @ Santander Arena
11/05 – Uncasville, CT @ Mohegan Sun Arena
11/07 – Camden, NJ @ BB&T Pavilion
11/08 – Boston, MA @ Agganis Arena
11/10 – Portland, ME @ Cross Insurance Center
11/11 – Albany, NY @ Times Union Center
11/12 – Syracuse, NY @ The OnCenter Arena
11/14 – Montreal, QC @ Place Bell
11/15 – Toronto, ON @ Air Canada Centre
11/17 – Pittsburgh, PA @ Petersen Events Center
11/18 – Cleveland, OH @ Wolstein Center
11/19 – Highland Heights, KY @ BB&T Arena
11/21 – Detroit, MI @ Fox Theatre
11/22 – Grand Rapids, MI @ The DeltaPlex Arena
11/24 – Chicago, IL @ UIC Pavilion
11/25 – St. Paul, MN @ Xcel Energy Center
11/28 – Spokane, WA @ Spokane Arena
11/30 – Vancouver, BC @ PNE Coliseum
12/01 – Seattle, WA @ Key Arena
12/02 – Portland, OR @ Veteran's Memorial Coliseum
12/04 – Eugene, OR @ Matthew Knight Arena