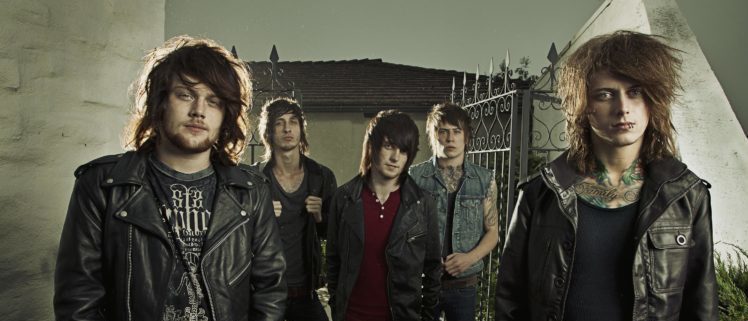 "The next year is going to be a busy year for us", reveals drummer James Cassells
November 25, 2016
Since Denis Stoff left the band, Asking Alexandria haven't stopped to take a breath. With the return of the band's original vocalist Danny Worsnop, the group have been on the road, rocking on Sumerian Records' 10 Years Of Black in their "classic" lineup. Drummer James Cassells has now revealed that in 2017 fans can expect new music from the group with Worsnop on the mic.
In a chat with KFMX in Lubbock, Texas, Cassells confirmed that AA are planning to get down to writing new music with Worsnop next year.
[quote align="center" color="#COLOR_CODE"]"We are actually going to go get in the studio with Danny, go lock ourselves away for a bit and really work on some great new material for people," the drummer said.[/quote]
After The Black came out, the band's been on the road the whole year. Will the guys keep touring actively in 2017? Cassells explained in the interview that they are going to take it low with touring to really focus on making new music:
[quote align="center" color="#COLOR_CODE"]"The next year, though, is going to be a busy year for us—not so much in the forefront, like playing shows etc., but for us as musicians, we're going to be in the studio, we're going to be in the practice space, we're going to be working," Cassells revealed.[/quote]
Read more: Fans In Shock – ASKING ALEXANDRIA's Original Lineup Reunites with Danny Worsnop
When Denis Stoff became the band's singer, fans' opinions split: some felt the music on The Black album was not true Asking Alexandria, whereas others accepted the change in vocals and the band's music direction (plus, the band's army of fans grew with the arrival of Stoff as the vocalist). What about the sound AA are going to keep to on their 2017 material?
[quote align="center" color="#COLOR_CODE"]"The Black was the album we needed to release at the time, but now I feel like we're going to go back to doing what we were doing with Danny, and we're going to be moving forward with new music," Cassells told KFMX.[/quote]
Besides, there's a new collaboration in the works from AA and Matt Good of From First To Last. Danny Worsnop and Ben Bruce hinted in social media that they were planning to "maybe play a little music".
The full interview with Cassells can be seen below. Are you excited to hear the band's new material? What are your hopes soundwise? Would you like the band to go back to their roots or move forward and explore new territories? Share your thoughts in the comments, and join Alterock Facebook and Twitter to stay tuned for rock and metal news.