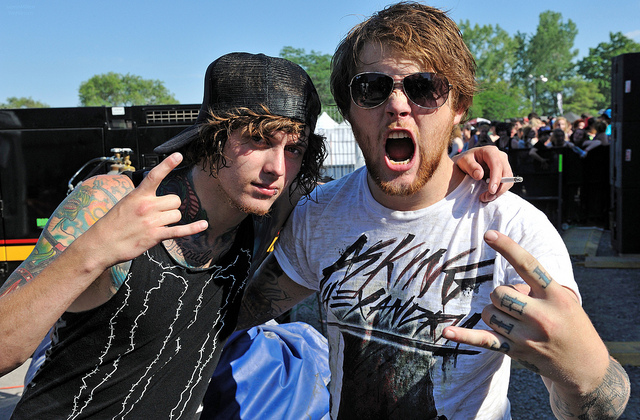 Ben Bruce is also denying that he had unfollowed Denis Shaforostov
September 21, 2016
AlteRock hasn't been delivering you endless "ping-pong" news (so-called news) that popped up on other websites, like Ben Bruce said this and Danny Worsnop stroke back and said that… Having spat a few comments about parting ways in each other's direction, Asking Alexandria's guitarist (Bruce) and former frontman (Worsnop) seem to have buried the hatchet.
Worsnop took to Twitter to reassure fans that he and Bruce "partied old school style", drinking "almost a handle of Jameson." Bruce also posted a comment on Twitter, reading: "Me and Danny were best friends for a decade, we have rekindled our relationship" (see his tweet below).
Listen: ASKING ALEXANDRIA Share Cover of MCR's 'Famous Last Words' + Slipknot's 'Duality'
Apart from that, Bruce decided to confront circulating rumors that he had unfollowed current Asking Alexandria vocalist Denis Shaforostov. "What is everyone talking about? I haven't unfollowed anyone in my band", he has tweeted. "I don't run Denis' social media so I don't know what his posts are about! I'm not in an argument with anyone. All these random stories going around are so strange!"
What do you think of the the musicians' denying comments? Share your thoughts in the comments, and join Alterock Facebook and Twitter to stay tuned for rock and metal news.
More: Asking Alexandria's Ben Bruce to Miss Tour, Awaits Birth of Daughter
Drank almost a handle of Jameson and partied old school style with @benjaminbruce. So there's that…

— Danny Worsnop (@dannyworsnop) September 18, 2016
What is everyone talking about? I haven't unfollowed anyone in my band. I don't run denis' social media so I don't know what his posts(cont) — Ben Bruce (@benjaminbruce) September 19, 2016
Are about!!! I'm not in an argument with anyone. All these random stories going around are so strange!

— Ben Bruce (@benjaminbruce) September 19, 2016
I haven't unfollowed anyone. Me and Danny were best friends for a decade, we have rekindled our relationship  https://t.co/zkwTaeWN58 — Ben Bruce (@benjaminbruce) September 19, 2016