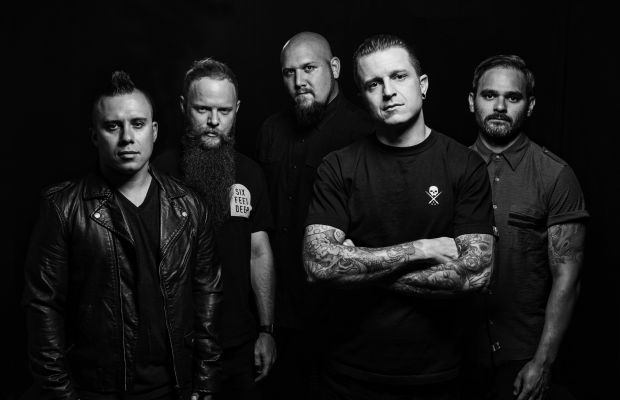 Atreyu have announced a tour celebrating 10 years since their 2006 release
March 30, 2016
Atreyu have just finished their US tour – a co-headlining Long Live tour with Devil You Know, and now they've announced a new one: a 10-year anniversary tour, which marks a decade since their 2006′ album, A Death-Grip On Yesterday. They will play the album in its entirety alongside other songs from various years in their discography. The opening acts at the shows will be Islander and Sworn In. Tickets go on sale this Friday, April 1, at 10AM PST.
"Death-Grip is my favorite 'older' Atreyu album," admits the band's frontman Alex Varkatzas. "It represents an exciting time and place for myself and my brothers. It's our most 'to the point' record. I also feel it's one of our most natural records as well. Lyrically, I got to run free and it felt great. We are pleased to play it in its entirety and give each song its due!"
Last month Atreyu premiered a performance video for 'A Bitter Broken Memory', which gives fans a sneak peek of how the band prepares for the show. It's a powerful concert video, which shows the band give the audience 100% of their energy onstage. Plus, you will get to see many interesting backstage moments, such as band members doing push-ups and squats before the show. Watch the video for 'A Bitter Broken Memory' at this location.
Check out the exact tour dates and locations below.
Atreyu's A Death-Grip On Yesterday Tour Dates: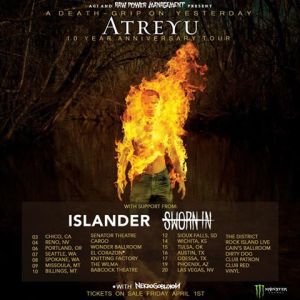 5/3: Chico, CA @ Senator Theater
5/4: Reno, NV @ Cargo
5/6: Portland, OR @ Hawthorne Theatre
5/7: Seattle, WA @ El Corazon
5/8: Spokane, WA @ Knitting Factory
5/9: Missoula, MT @ The Wilma
5/10: Billings, MT @ Babcock Theatre
5/12: Sioux Falls, SD @ The District
5/13: Council Bluffs, IA @ KIWR Rockfest
5/14: Wichita, KS @ Rock Island Live
5/15: Tulsa, OK @ Cain's Ballroom
5/16: Austin, TX @ Dirty Dog
5/17: Odessa, TX @ Club Patron
5/19: Phoenix, AZ @ Club Red
5/20: Las Vegas, NV @ Vinyl