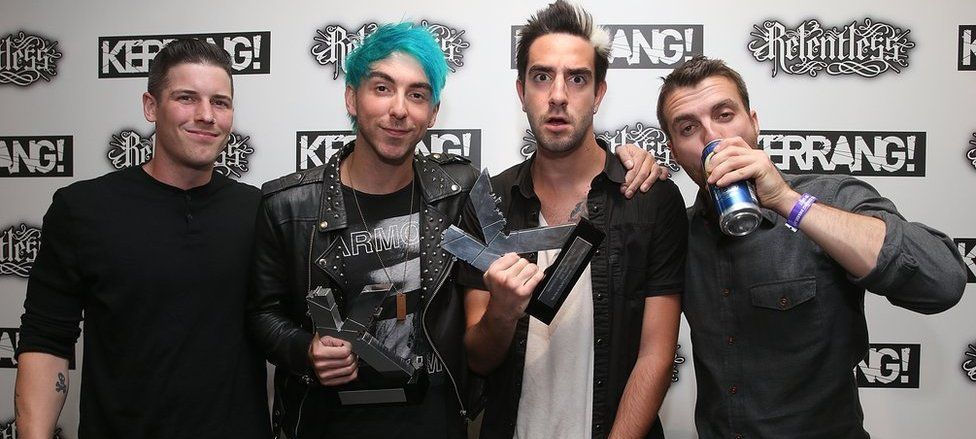 Among the unquestionable winners of the Kerrang! Awards this year are MARILYN MANSON, BABYMETAL, ALL TIME LOW and more
June 12, 2015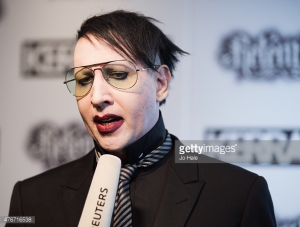 The ceremony of 2015 Kerrang! Awards, which took place yesterday, handed out awards to the rock and metal scene stars, based on fans' votes. The hosts of the annual U.K. magazine's ceremony at Troxy Theater in London, England, have announced Marilyn Manson, Alice Cooper, Judas Priest, BabyMetal and All Time Low among most prominent winners this year. You may enjoy the whole hour of the "black" carpet video footage below, followed by the list of winners.
Marilyn Manson received the honorable Lifetime Achievement Award, whereas BabyMetal were awarded with the Spirit of Independence title. As for rock veterans, Alice Cooper became the winner in the category Kerrang! Legend, while Kerrang! Inspiration Award went to Judas Priest.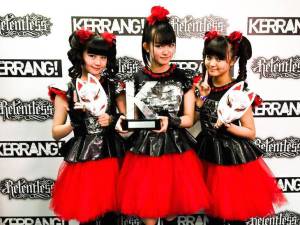 The Best British Band award was taken home by Bring Me The Horizon. Among other winners were Black Veil Brides (Best Live Band), You Me At Six and All Time Low co-headlining tour was awarded with the Best Event title. It also took many by surprise that All Time Low beat Slipknot, Sleeping With Sirens, Fall Out Boy and AC/DC in the Best International Band category.
Finally, Pierce the Veil fans were officially named the Best Fanbase, so if you are the fan of Pierce the Veil, you might want to be proud of your favorite band's fan support out there, especially taking into account that the opponents in this category were Black Veil Brides, Asking Alexandria, All Time Low and My Chemical Romance.
Check out the "black carpet" video and the full winners list below. Leave us your comments below and stay tuned with Alterock Facebook and Twitter to never miss on the news about your favorite alternative music!
https://youtu.be/Rx20NWJE0Vo
Full Winners List (via Loudwire):
Kerrang! Inspiration Award:
Judas Priest
Kerrang! Legend:
Alice Cooper
The Relentless Award:
Rolo Tomassi
The Spirit Of Independence Award:
Babymetal
The Lifetime Achievement Award:
Marilyn Manson
Spirit Of Punk Award:
Slaves
Best Event:
• You Me At Six / All Time Low – Co-headline tour (winner)
• Slipknot / Korn / King 810 – Prepare For Hell Tour
• Foo Fighters – 'The Holy Shits' shows
• Black Veil Brides – Intimate London club shows
• Pop Punk's Not Dead Tour
Best British Newcomer:
• Royal Blood (winner)
• Moose Blood
• As It Is
• Fort Hope
• Ashestoangels
Best International Newcomer:
• PVRIS (winner)
• Beartooth
• Hellions
• Nothing More
• Against The Current
Best Single:
• Enter Shikari – "Anaesthetist" (winner)
• Bring Me The Horizon – "Drown
• All Time Low – "Kids in the Dark"
• Fall Out Boy – "Centuries"
• Young Guns – "Speaking in Tongues"
Best Video:
• New Years Day – "Angel Eyes" (ft. Chris Motionless)(winner)
• Lonely the Brave – "The Blue, The Green"
• Body Count – "Institutionalized 2014″
• frnkiero andthe cellabration – "She's The Prettiest Girl At The Party, And She Can Prove It With A Solid Right Hook"
• Gerard Way – "No Shows"
Best Live Band:
• Black Veil Brides (winner)
• A Day to Remember
• Architects
• Slipknot
• In This Moment
Best Album:
• Marmozets – The Weird And Wonderful Marmozets (winner)
• Mallory Knox – Asymmetry
• We Are Harlot – We Are Harlot
• Gerard Way – Hesitant Alien
• Black Veil Brides – Black Veil Brides (IV)
Best International Band:
• All Time Low (winner)
• Slipknot
• Sleeping With Sirens
• Fall Out Boy
• AC/DC
Best British Band:
• Bring Me The Horizon (winner)
• Muse
• Enter Shikari
• You Me At Six
• Architects
Best Fanbase:
• Pierce The Veil (winner)
• Black Veil Brides
• Asking Alexandria
• All Time Low
• My Chemical Romance
Best Film:
• Guardians of the Galaxy (winner)
• Kurt Cobain: Montage of Heck
• The Inbetweeners 2
• Avengers: Age of Ultron
• Sharknado 2: The Second One
Best TV Show:
• Adventure Time (winner)
• Game of Thrones
• American Horror Story
• Gotham
• The Walking Dead
Best Radio Show:
• Nights With Alice Cooper – Planet Rock (winner)
• The Alex Baker Show – Kerrang! Radio
• BBC Radio 1 Rock Show with Daniel P Carter
• BBC Radio 1 – Dan and Phil
• Full Frontal with Jack Barakat and Alex Gaskarth (All Time Low)
Best Video Game:
• The Walking Dead (winner)
• Grand Theft Auto V
• Minecraft
• Alien: Isolation
• Call Of Duty: Advanced Warfare
Best Comic Book:
• The Walking Dead – Robert Kirkman, Tony Moore and Charlie Adlard (winner)
• Descender – Jeff Lemire and Dustin Nguyen
• The True Lives Of The Fabulous Killjoys – Gerard Way, Shaun Simon and Becky Cloonan
• 2000 AD
• The Wicked + The Divine – Kieron Gillen and Jamie McKelvie
Best Festival:
• Slam Dunk (winner)
• Download
• Sonisphere
• Bloodstock
• Reading & Leeds
Best Comedian:
• Russell Howard (winner)
• Greg Davies
• Frankie Boyle
• Jack Whitehall
• Noel Fielding
Tweeter Of The Year:
• Hayley Williams – Paramore (winner)
• Mark Hoppus – blink-182
• Andy Biersack – Black Veil Brides
• Gerard Way
• Jono Yates – Blitz Kids
[huge_it_slider id="1″]