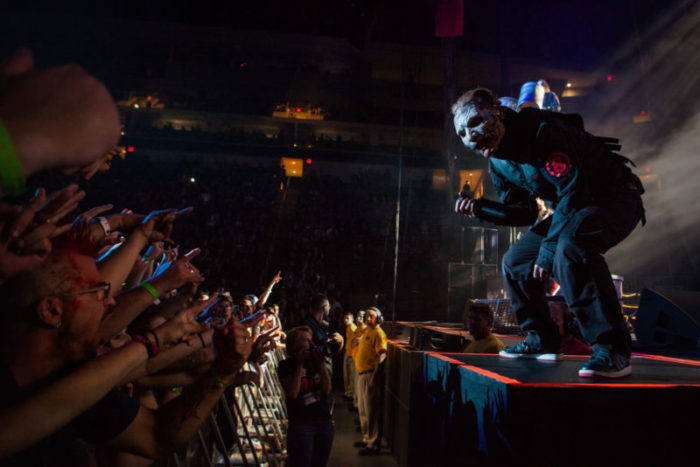 It looks like new Slipknot album is finally coming in 2019 with "some of the best" lyrics
June 6, 2018
Hell yeah! You've been waiting for new material from Slipknot ever since 2014's .5: The Gray Chapter album, and it seems that now the new record is not too far away! While touring with Stone Sour, Corey Taylor began writing new and very personal lyrics for the upcoming album. The lead singer says other bandmates were "blown away" when they heard the new texts.
Over the past months, we've seen our masked rockers hinting here and there what their new songs and lyrics will sound like. Now, in an interview with Loudwire, he goes as far as to say the new Slipknot lyrics are "some of the best" he's ever written:
[quote align="center" color="#COLOR_CODE"]"Some of these lyrics are, to me, some of the best I've ever written," he says. "It's probably the most I've shared in years."[/quote]
The fans' anticipation kicked in last year when Slipknot percussionist M. Shawn "Clown" Crahan said they were making demos of the new songs for the upcoming sixth studio record. Taylor reveals the inspiration behind the new lyrics comes from the last couple of years, full of hardships and fighting his inner devils:
[quote align="center" color="#COLOR_CODE"]"It's been a heavy couple of years for me personally" Taylor admits. "So I'm working out some things, personally for myself, which has been great. I've been able to grab a hold of some of the depression that I've been fighting and formulate the way that I want to describe it."[/quote]
Taylor points out that the other bandmates are as enthusiastic about the new lyrics as he is:
[quote align="center" color="#COLOR_CODE"]"Hearing some of the guys in Slipknot read and react to some of the lyrics that I've been writing has been fantastic," he says. "I know Clown was like, just blown away by how open and raw it all felt. It felt like the old days. It felt like the beginning."[/quote]
The frontman had previously hinted that we might expect the new Slipknot material in 2019. The band should reportedly start recording the album later this year.
Speaking of possible inspiration for new lyrics, Sliknot singer has recently revealed one reason he's "happy after being lost for so long". Taylor has gone public with his relationship with a dancer and singer Alicia Dove, who is part of a dance group Cherry Bombs. Half a year ago the frontman unveiled that he and his wife had been separated for almost a year. He's now involved in a new and very happy relationship.
Taylor posted Dove's photo on Instagram with the caption: "She is the reason I'm happy after being lost for so long. She is a million things… and that one thing. She is my everything. And I'm so proud to be hers. The Blood in my Love. My Queen. Mi Rojo Mundo". You can read more on their relationship going public on Metal Addicts.
Are you excited to hear new Slipknot songs? Share your thoughts in the comments, and join AlteRock Facebook and Twitter to stay tuned for rock and metal news.
More: Watch actress Tina Fey do cover of System Of A Down's 'Chop Suey!' on Saturday Night Live