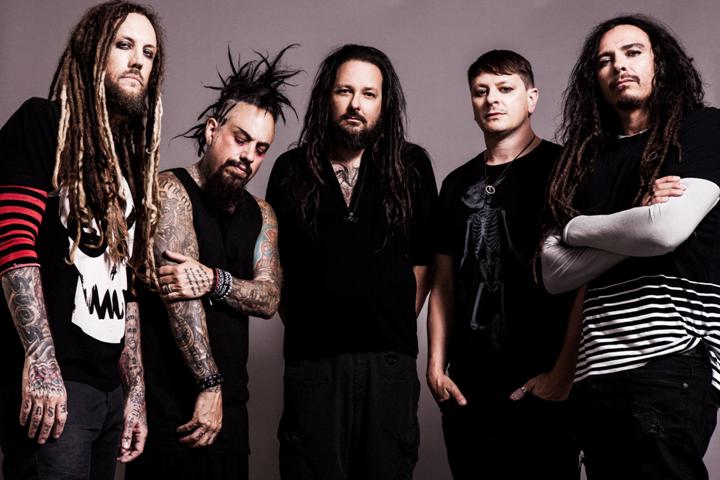 Taylor joined Korn during their set at the Louder Than Life Festival
October 3, 2016
It's only a little over two weeks to go before Korn release their new album, The Serenity Of Suffering, and their fans in Louisville, Kentucky, had a chance to see them pefrom 'A Different World' with Corey Taylor live for the first time.
The collaborative performance took place at the Louder Than Life Festival this past Sunday. You now have a chance to watch the footage of this live debut (see below). And if you missed the studio version of the song, give it a listen at this location.
Watch: President OBAMA "Sings" KORN's 'Freak On A Leash'
"We were trying to figure out who we wanted to collaborate with, and I'm like, 'You know, that's the one, that's the guy,'" says Korn vocalist Jonathan Davis (via Blabbermouth). "And I texted him, I'm like, 'Do you want to be on a new Korn track?' He's all, 'Hell yeah! When and where, what do I do?'"
Listen: SOULFLY, KORN + More Cover AC/DC's 'Highway to Hell'
Korn's new album, The Serenity Of Suffering, is scheduled for release October 21, and is the first one recorded on Roadrunner since Korn III – Remember Who You Are (2010) and The Path Of Totality (2011).
This fall Korn are criss-crossing the US, co-headlining the shows with Breaking Benjamin on their Nocturnal Underground Tour. The tour will wrap up late October, so you can stick still catch the band live.
Check out the fan-filmed footage of Korn debuting 'A Different World' live with Corey Taylor below. What do you think of the performance? Share your thoughts in the comments, and join Alterock Facebook and Twitter to stay tuned for rock and metal news.