Marko Hietala openly spoke out about his disappointment in the music industry and not feeling "validated by this life"
Bassist Sami Vänskä (2001), singer Tarja Turunen (2005), vocalist Anette Olzon (2012), drummer Jukka Nevalainen (2019) and now Marko Hietala. Having been an indispensable part of the band for 20 years, bassist and vocalist Hietala has announced his decision to leave Nightwish.
In the announcement, which the musician wrote on the band's official website, he didn't use polite formal press cliches or euphemisms. Instead, he opened up about his overall disappointment in the music industry and where it is headed:
More: CHILDREN OF BODOM's Alexi Laiho dead at 41, wife Kelli thanks fans and musicians for "beautiful energy and support"
"Dear people. I am leaving Nightwish and my public life. For quite a few years now I haven't been able to feel validated by this life," wrote the bassist.
"This past year forced me to stay home and think. And I found myself very disillusioned about these and a lot of things. I found out that I am in need of that validation. For me to write, sing and play, I need to find some new reasons and inspirations…"
Hietala's criticism of the music industry mostly refers the recent shift in power and profit distribution, as digital streaming platforms, or "big guns", as he calls them, took the hold:
"We have streaming company big guns demanding 9-5 work from artists of inspiration while unfairly sharing the profits," his statement says.
While Hietala doesn't go into the details of "unfairly sharing the profits", his mentioning of the band's leader Tuomas Holopainen seems to be a bit uncalled for and might result in unnecessary speculation about the authority distribution inside the band:
"Blaming Tuomas would be an insult to him and my free will. This is a very sad situation for all of us," the bassist wrote.
Apart from money matters, Hietala mentions his chronic depression, making it hard for him and his band mates and crew to be around.
"And it's even in my book that I'm a chronic depressive. It's dangerous for me and the people around me, if I continue. Some of the thoughts a while back were dark," he added.
After two decades in media spotlight, Hietala made a decision to take a break from public life altogether for at least a year:
"I have some reinventing to do. I hope to tell you about it in 2022. It's not a promise, though."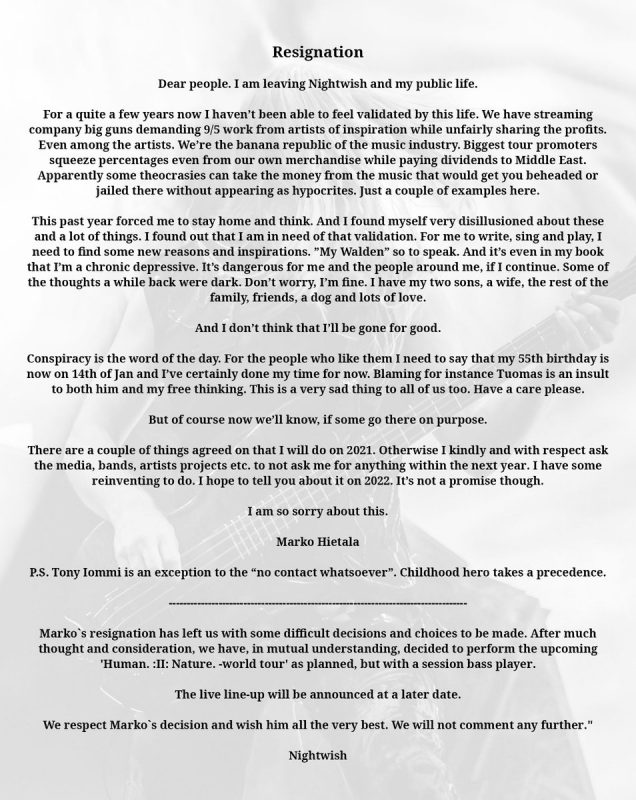 Marko Hietala started his career in the 80-ies with metal band Tarot, to then join Nightwish, pretty much at the peak of their success with Tarja as the vocalist. In 2021 Nightwish prepared to return to the road in support of their last year's album Human. :||: Nature. Now, under Hietala's post (seen above), the rest of Nightwish wrote they will perform with a session bassist instead of him. The new live line-up will be announced at a later date.
Nightwish finished their response by saying: "We respect Marko`s decision and wish him all the very best. We will not comment any further." Don't miss out on the news about your favorite rock bands – join us on AlteRock Facebook and AlteRock Twitter!