EVANESCENCE are back onstage after a three-year hiatus / The first three concert dates have been announced
July 20, 2015
When was the last time your heard of Evanescence in the media? Most probably, it was more than three years ago as the band was barely in the public eye over the past few years. This fall the group is back with at least three U.S. show dates – in Nashville, Dallas and Los Angeles: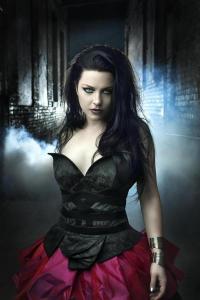 Nov. 13 – Nashville, TN – Marathon Music Works
Nov. 15 – Dallas, TX – South Side Ballroom
Nov. 17 – Los Angeles, CA – Wiltern
In addition to that, Evanescence will be playing at Ozzfest Japan, November 21-22. The festival line-up also includes Ozzy & Friends and Korn's performances. Vocalist Amy Lee commented on that: "You know, we're already playing Japan, and it seems like a waste to do all that practicing for just one show…. So to finally answer the question many of you have been asking since the Ozzfest announcement, YES. We're adding three U.S. dates in November!"
After the singer Amy Lee became a mother in July 2014, she claimed she had no plans to go to the studio with the band or perform with them. She later took to Facebook to tell her fans, "Evanescence is a part of me — it just isn't a complete picture of everything I'm capable of." Then, in August 2014 Lee released an album under her own name titled Amy Lee With Dave Eggar: Aftermath, featuring of music she wrote with Dave Eggar for the film called War Story.
The new dates mark first Evanescence shows in three years. It's unknown yet whether the band is intending to also work on a new Evanescence album, but three U.S. shows in a row are certainly great news for longtime fans of the band.
[huge_it_slider id="1″]