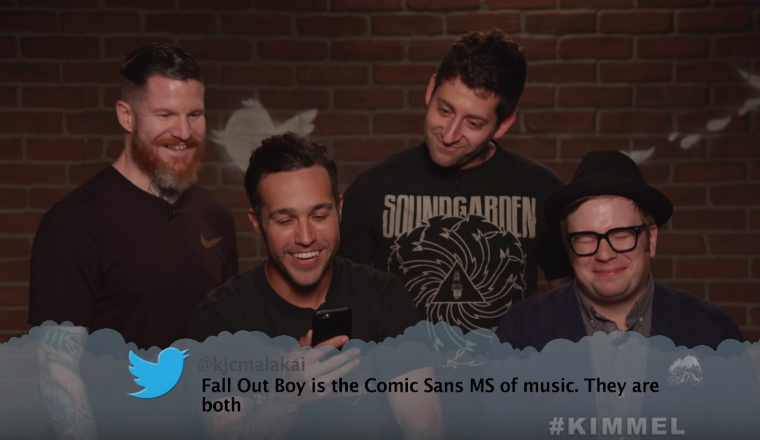 Who of the rock musicians do you think had the coolest reaction?
March 7, 2018
Jimmy Kimmel knows how to keep us amused: see how famous rock bands react to ridiculously mean words about themselves. In "Music Edition" on YouTube celebrities are offered to read aloud the worst comments about their looks and music, and this time it was the turn of some rock stars.
More: ANDY BIERSACK moves house after fan harassment: "It is simply not acceptable"
Fall Out Boy, Blink-182 and Green Day recited the most elaborate haters' posts, and so did Adam Levine, Alice Cooper and other musicians. And let us just say, this portion of tweets was really really mean.
For example, how do you like this mean tweet about Blink-182's Mark Hoppus? "Saying blink-182 is your favorite band is like saying I'm OK living with herpes…"
And guess whose name appears in this in-your-face tweet: "I left more talent in my toilet this morning than … has ever had".
Watch the outrageously straightforward comments on Jimmy Kimmel Live below. Do you like what we're doing? If so, help us grow by sharing the article – this way we can keep providing you latest news and fun interviews with your favorite bands! Stay tuned with AlteRock Facebook and Twitter to never miss on the news about your favorite alternative music!
Watch: FALL OUT BOY llamas kill Pete Wentz in weird music video for new song 'The Last Of The Real Ones'