"Circling my home in a vehicle over and over is simply not acceptable," Biersack wrote in the statement
November 16, 2017
For singers like Andy Biersack or Panic! At The Disco's frontman Brendon Urie image, style and good looks are important ingredients to their popularity on top of making good music. It takes a lot of effort to always appear classy and be ready for the cameras pointed at you. Unfortunately, the side effect of this stardom is when you get too much attention and cannot be yourself even at home.
Andy Biersack has posted a statement on Twitter today, explaining he was forced to move house as fans have been sharing his address and stalking him near his home. Biersack's statement reads:
"I appreciate the dedication so many have given to me and my career over the years however i must insist that finding information about, sharing the address & showing up at my home is inappropriate. We will be moving and i hope that going forward personal privacy will be respected".
Apparently, some fans have gone as far as to be constantly circling his home, waiting for the singer to show up. Biersack writes that the last thing he would do is to call the police in such case but there's a difference between simply wanting to meet him and circling his house over and over again:
"Also i would never want to contact authorities in regards to fans or people who just want to meet me but circling my home in a vehicle over and over is simply not acceptable. Please understand we are just regular people and stop this unnecessary situation."
See Biersack's full statement below.
Earlier this year, Panic! At The Disco's singer, Brendon Urie, had a similar unpleasant experience with fans: he took to Twitter to announce he was going to buy a new house due to feeling unsafe in his old one. "As time progressed, so did the amount of letters. Not just letters and gifts, this soon changed into visits and constant harassment from fans. It got so bad that I didn't feel safe in my own home", Urie explained.
More: Andy Biersack announces his own talk show, The Andy Show, posts teaser
Have you heard of similar cases of fan harassment towards other rock musicians? Do you like what we're doing? If so, help us grow by sharing the article – this way we can keep providing you latest news and fun interviews with your favorite bands! Stay tuned with AlteRock Facebook and Twitter to never miss on the news about your favorite alternative music!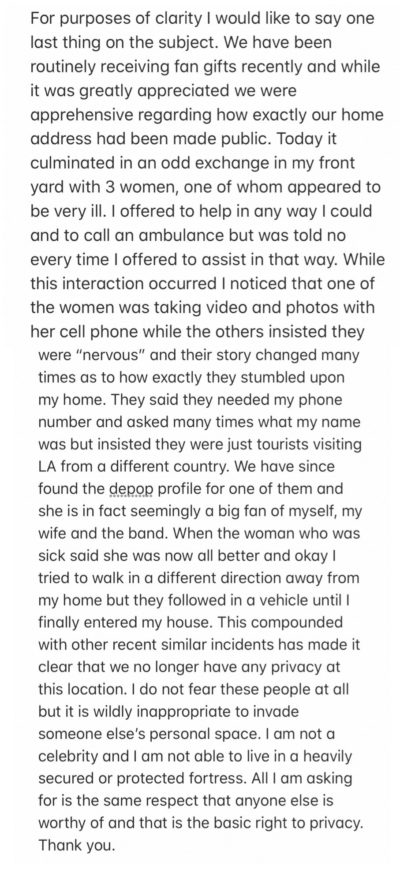 More: Andy Biersack marries Juliet Simms: 'I married my best friend in the world'