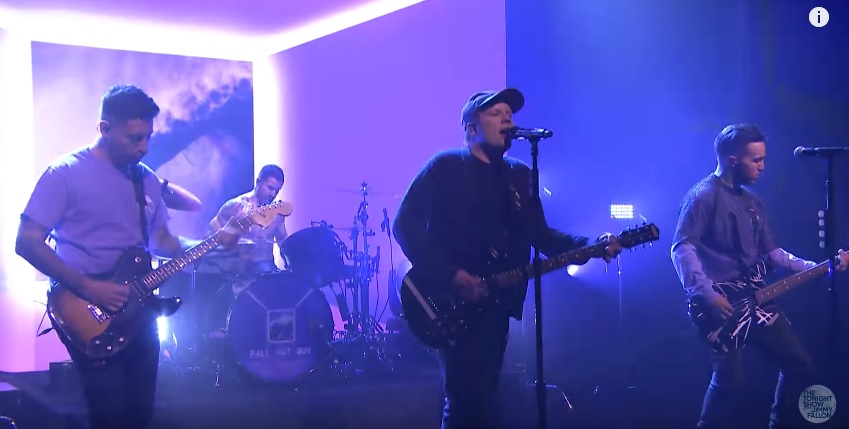 "It's our right to be angry… and it's all right to voice that anger," says Pete Wentz on the lyrics of the song
May 17, 2017
Fall Out Boy were invited to The Tonight Show Starring Jimmy Fallon to play their latest single 'Young And Menace,' which you can enjoy below. The track dropped in April, marking the first new material from the band since their 2015's album American Beauty/American Psycho.
'Young And Menace' is featured on the band's upcoming seventh album, M A N I A, which we'll get to hear this fall.
Listen: FALL OUT BOY's Patrick Stump unleashes catchy soundtrack for 'Lego Batman'
"There's a lyric in the song, 'trying to send the world a message, I was young and a menace,' that reminded me of growing up in the suburbs of Chicago," says bassist Pete Wentz on the song's title. "I didn't look like anyone there or feel like anyone – I felt like an outsider in my own town. It wasn't until I discovered punk rock and that community that I realized I did fit in somewhere in this world – with the other people who didn't fit in".
Wentz added in a recent interview that 'Young And Menace' is about releasing your teenage anger, and there's nothing wrong with voicing that anger and channeling it into something creative:
[quote align="center" color="#COLOR_CODE"]"It's our right to be angry and disenchanted, and it's all right to voice that anger," Wentz explains. "I kind of was thinking back to when I was going through a lot of turmoil when I was younger. I wasn't sure yet that I figured out what I wanted to say, but I knew I was pissed off and I wanted to say something."[/quote]
Album M A N I A is out September 15 and is available for pre-order now. The release will be followed by a massive North American tour.
Check out the making of 'Young And Menace' below. Be the first to leave your comments and stay tuned with AlteRock Facebook and Twitter to never miss on the news about your favorite alternative music!
More: FALL OUT BOY's Pete Wentz announces his own short film