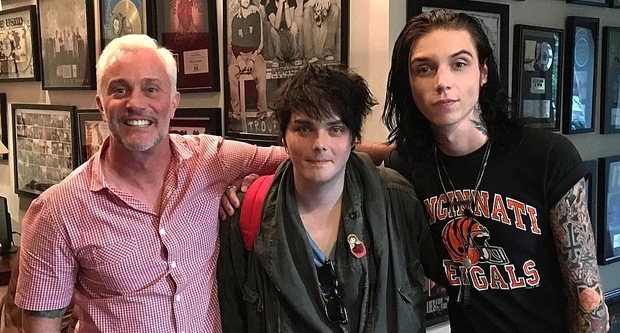 Ex-My Chemical Romance's frontman Gerard Way spent a day in the studio yesterday working with Black Veil Brides's singer Andy Biersack on his upcoming Andy Black record
September 29, 2015
It seems like Andy Biersack's project Andy Black is in the process of creating an all-star record, with the most famous indie-rock stars appearing in his studio one after another.  A month ago Black's Instagram post showed Fall Out Boy's Patrick Stump and the Used guitarist Quinn Allman adding their touch to the record. Yesterday, Black Veil Brides frontman Andy Biersack posted a photo of himself, Gerard Way and producer John Feldmann (Sleeping With Sirens, 5 Seconds Of Summer) from the studio, where they united forces to work on Andy Black's record.
According to Biersack's comment underneath the photo, the frontmen have worked together in the studio all day. "What an incredible day in the studio (…) Thank you so much to Gerard for coming in today, it was an absolute pleasure working with you and talking about music, comics and life. An inspiring creative force and a true artist! This record just keeps getting more exciting! I can't wait for you all to hear it!"
There is a plan to finish work on Black Veil Brides and Andy Black's new records simultaneously, as Biersack announced recently at APMAs. "I have almost all the material worked on for Andy Black. We're going to get in, start working with John Feldmann and do a Black Veil record, then I'm going to try to [get] an Andy Black record done."
Black Veil Brides' latest studio album to date came out in 2014 via Universal/Republic Records, followed by the release of the concert DVD, titled Alive And Burning, this past summer.
What do you think of the collaboration? Share your thoughts in the comments, and join Alterock Facebook and Twitter to always be in the know about your favorite rock bands!

[huge_it_slider id="1″]