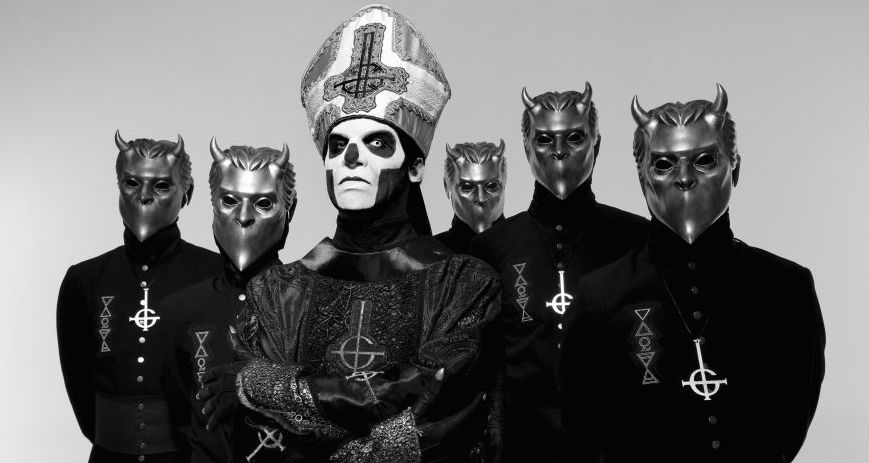 Swedish Grammy Awards winners Ghost have announced their fall tour of North America
June 15, 2016
This year's Grammy and Golden God Awards winners, Swedish rockers Ghost, have just announced that this fall they are touring North America. Check out the full list of headlining tour dates below.
More: GHOST Take Home Best Metal Performance Grammy for 'Cirice' – watch here
To other Ghost' news, the band had to cancel their scheduled appearances on Pinkpop and Download Festival, as frontman Papa Emeritus III has been sick over the past few days and could barely sing at Download Paris last Friday. Doctors recommend the vocalist to rest and save his voice for a while. The rockers hope to be back on stage by their upcoming show in Olso, on June 15.
Two days ago, on June 13, Ghost took home the Best International Band award at Metal Hammer's Golden God Awards. Now they've officially got the best possible music awards on both sides of the Atlantic. The Swedes are also intending to release an EP this fall, so stay tuned for more news from Ghost.
The tour kicks off in Rochester, NY on September 16 and runs all the way into mid-November. Tickets for the tour will go on sale Friday, June 17.
Watch: GHOST Take Swedish Grammis For Best Hard Rock/Metal Album, Perform 'He Is'
Share your thoughts in the comments, and join Alterock Facebook and Twitter to stay tuned for rock and metal news.
Ghost Fall 2016 Tour Dates: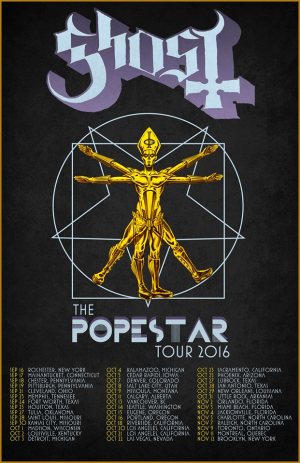 09/16 – Rochester, N.Y. – The Armory
09/19 – Pittsburgh, Pa. – Stage AE
09/21 – Cleveland, Ohio – Masonic Auditorium
09/23 – Memphis, Tenn. – Minglewood Hall
09/27 – Tulsa, Okla. – Brady Theater
09/28 – St. Louis, Mo. – The Pageant
09/30 – Kansas City, Mo. – Arvest Bank at Midland Theatre
10/01 – Madison, Wis. – Sonic Boom Festival
10/02 – Louisville, Ky. – Louder Than Life
10/03 – Detroit, Mich. – The Fillmore
10/04 – Kalamazoo, Mich. – Kalamazoo State Theatre
10/05 – Cedar Rapids, Iowa – Paramount Theatre
10/07 – Denver, Colo. – Paramount Theatre
10/08 – Salt Lake City, Utah – The Complex
10/09 – Missoula, Mont. – The Wilma Theatre
10/11 – Calgary, Alberta – MacEwan Hall
10/13 – Vancouver, British Columbia – The Vogue Theater
10/14 – Seattle, Wash. – The Moore Theater
10/15 – Eugene, Ore. – McDonald Theater
10/16 – Portland, Ore. – The Rosalind Theater
10/18 – Riverside, Calif. – Riverside Municipal Auditorium
10/20 – Los Angeles, Calif. – The Wiltern
10/21 – Los Angeles, Calif. – The Wiltern
10/22 – Las Vegas, Nev. – The Brooklyn Bowl
10/25 – Phoenix, Ariz. – Comerica Theatre
10/27 – Lubbock, Texas – City Bank Auditorium
10/28 – San Antonio, Texas – The Aztec Theater
10/31 – Little Rock, Ark. – Metroplex
11/02 – Orlando, Fla. – The Hard Rock
11/03 – Miami Beach, Fla. – Fillmore Miami Beach
11/04 – Jacksonville, Fla. – The Florida Theatre
11/05 – Charlotte, N.C. – The Fillmore
11/07 – Raleigh, N.C. – The Ritz
11/09 – Toronto, Ontario – Queen Elizabeth Theatre
11/11 – Montreal, Quebec – Metropolis
11/12 – Brooklyn, N.Y. – Kings Theatre