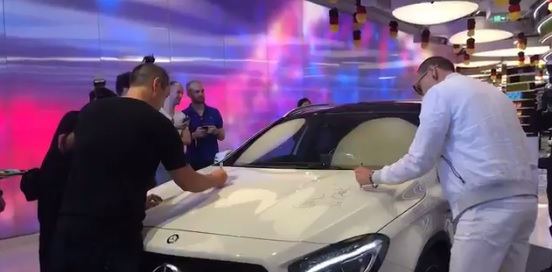 Chester Bennington and Joe Hahn have certainly spent an awesome day in China's capital – watch
July 16, 2016
Linking Park have not years but two whole decades of touring experience under their belt, so they know how to make the most of their spare time in each travelling destination. Yesterday, July 15, LP posted a short video report of Chester Bennington's and Joe Hahn's touristic activities in China's capital, Beijing.
The band members did not just put ticks into the checkbox of traditional Beijing sights and must-do's but also visited a posh Mercedes Me store, where they were asked to refine one of the cars with their autographs. See the footage below.
Watch: LINKIN PARK Discuss Sound Layers on New Album in Fresh Studio Footage
And of course, the musicians were happy to chat and take pics with their Chinese fans on the way, as they were walking down the streets in the heart of the Celestial Empire.
Linkin Park are currently working on their seventh album, a follow-up to 2014's The Hunting Party. Mike Shinoda told Blabbermouth: "We just started narrowing down to some of our favorite songs, and we're starting to put our first 'final' vocals on them," wrote the musician. "As I listen through them, I feel like these songs are really personal and revealing. We have really poured our hearts into the words and melodies, and it's starting to show as we approach recording the 'keeper' vocals."
.@ChesterBe & @joehahnLP at the #MercedesMe store in Beijing https://t.co/LPBlq3AoK3 pic.twitter.com/zhpB8MmR7y

— LINKIN PARK (@linkinpark) July 15, 2016