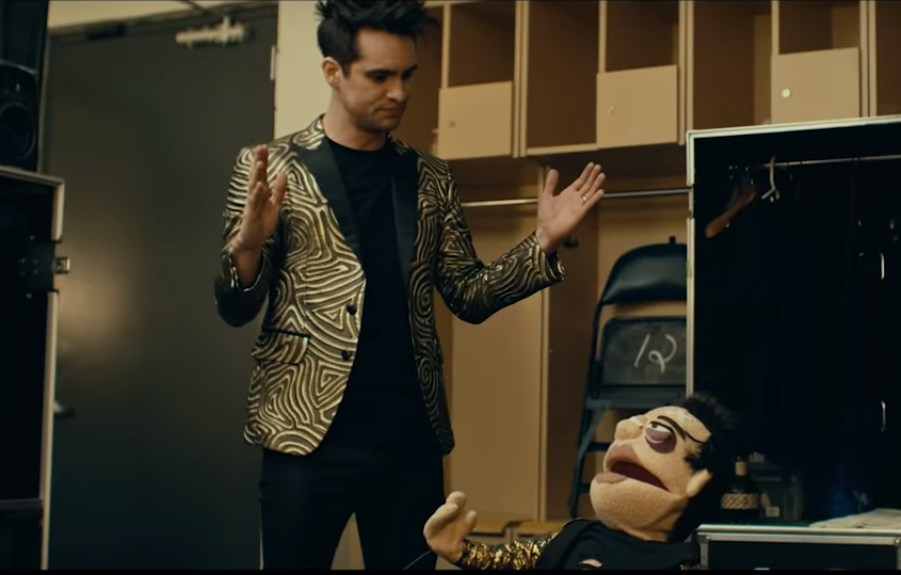 The Amazing Beebo puppet has recently become Panic! At The Disco's signature rep
March 18, 2019
Panic! At The Disco have released the music video for 'Dancing's Not A Crime', a song from the band's latest album Pray For The Wicked. And much like Fall Out Boy include their llama on and off in their music videos, Brendon Urie seems to have a strong bond with his puppet version, the so-called Amazing Beebo.
Beebo made his first appearance in the music video 'Hey Look Ma, I Made It', and since then has established hiself as a "sex, drugs and rock'n'roll" cliche star. This time, we see the doll Urie at concert venues, being a company man and hanging out with fans at Panic! At The Disco shows.
But Beebo character put aside, the video for 'Dancing's Not A Crime' will delight fans with plenty of live moments captured on the band's recent Pray For The Wicked tour.
As AltPress has pointed out, you're in for quite a surprising ending to the music video. That's when we find Brendon Urie suddenly shouting at the puppet: "Security just told me they found you in the bathroom, sitting on the toilet, puking your brains out. What do you have to say for yourself?"
Be sure to watch the newest video for 'Dancing's Not A Crime' below.
In the meantime, Panic! At The Disco are picking music awards from the start of 2019 like mushrooms in the forest after the rain. Most recently Brendon Urie & Co. got two awards at the 2019 iHeartRadio Music Awards. And we're talking not secondary awards, but Alternative Rock Album of the Year and Alternative Rock Song for 'High Hopes'.
Catch Panic! At The Disco on their European tour this spring. Check out the upcoming dates below.
Panic! At The Disco Tour Dates 2019:
03/18 — Amsterdam, Netherlands @ AFAS Live
03/19 — Paris, France @ Zenith
03/21 — Antwerp, Belgium @ Lotto Arena
03/24 — Glasgow, United Kingdom @ SSE Hydro
03/25 — Cardiff, United Kingdom @ Motorpoint Arena Cardiff
03/26 — Birmingham, United Kingdom @ Arena Birmingham
03/28 — London, United Kingdom @ The O2
03/29 — London, United Kingdom @ The O2
03/30 — Manchester, United Kingdom @ Manchester Arena
04/01 — Dusseldorf, Germany @ ISS Dome
04/03 — Berlin, Germany @ Mercedes-Benz Arena
04/04 — Hamburg, Germany @ Barclaycard Arena