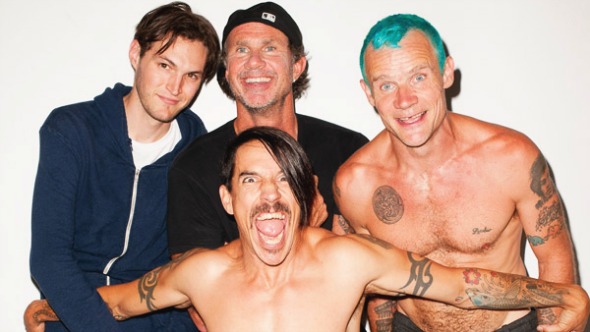 The band rocked at NFL pregame, but only Kiedis dared to wear full Rams uniform including the pants
September 19, 2016
Last night, September 18, Red Hot Chili Peppers rocked Rams' National Football League pregame in Los Angeles. The band gave a performance for the crowd of 91,046 at the Memorial Coliseum, opening the team's debut against the Seattle Seahawks. It was the Rams' first home game since their relocation from St. Louis.
The band showed their support by throwing on the Rams jerseys but only singer Anthony Kiedis dared to put on the whole uniform including the pants. It would be silly to say that this supporting move helped the Rams win, but the accumulative effect was that the Rams beat their opponents 9-3.
More: RHCP Share 'The Getaway' Title Track
RHCP chose to play their 2002 hit 'Can't Stop' plus their new song 'Dark Necessities'. The video footage of the performance below doesn't show the band too close but it'is definitely worth checking out. You're also guaranteed to have fun watching the cheerleading routine spicing up the game (see below).
Not only RHCP made an appearance at the LA Rams' game to support the team on their homecoming: among guest stars there were also actress Elizabeth Banks and actor Danny Trejo.
Chilli Peppers's new album, The Getaway, was released June 17. It's the band's first album since 2011's I'm With You. RHCP have already released the lead single from the record, 'Dark Necessities', and the album's title track, 'The Getaway', followed by a melodic single 'We Turn Red', which you can hear at this location. And be sure to check out RHCP's new music video for 'Go Robot' below.
Late night talk show host @JKCorden busts a move during the timeout #MobSquad pic.twitter.com/YSJ4oOQADN

— Los Angeles Rams (@RamsNFL) September 18, 2016
Red Hot Chili Peppers live pregame & yes, lead singer Anthony Kiedis is wearing a full #Rams uniform including pants pic.twitter.com/y8uP1BxGes — Candace Buckner (@CandaceDBuckner) September 18, 2016