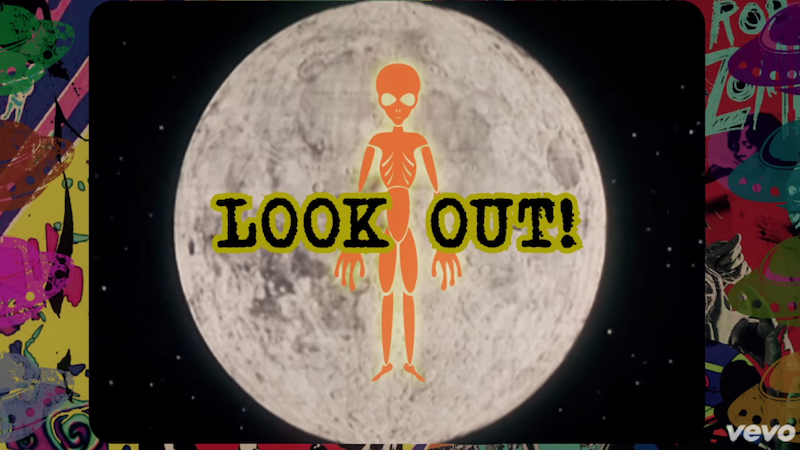 Rob Zombie claims 'Everybody's F—ing in a UFO' in a new entertaining lyric video for his latest single
February 26, 2016
Yesterday, Rob Zombie launched a new lyric video for his latest track 'Well, Everybody's F—ing in a UFO'. Even though it's not a full-fledged music video, the clip is really entertaining and has Zombie's signiture visuals: black-and-white footage of a burlesque-like dancer wearing nothing but pasties from the waist up, clips from sex education lectures from a few decades ago, and what not.
The track is featured on Zombie's new album, The Electric Warlock Acid Witch Satanic Orgy Celebration Dispenser, due out April 29. Zombie calls the new album "seriously heaviest most fucked up musical monster to date." Plus, the horror rocker premiered a new film, 31, financed by crowdfunding, at the 2016 Sundance Film Festival on January 23. The movie received an "R" rating after multiple negotiation efforts prior to its release. Zombie will also be directing the movie Raised Eyebrows, describing the life of comedian/actor Julius Henry "Groucho" Marx.
Rob Zombie is teaming up with metal powerhouse Disturbed this spring for a co-headlining US tour with support from an up-and-rising band Pop Evil. To see the tour venues and dates, click here. Besides a co-headlining tour, the bands will appear on various summer rock festivals in the US, including Welcome to Rockville, Carolina Rebellion, Northern Invasion, Rock on the Range and Rocklahoma.
In summer 2016, you can catch Rob Zombie live with alternative metal legends Korn during their co-headlining North American tour, beginning in July. Theatrical band In This Moment will be opening the shows. Check out Korn, Rob Zombie, In This Moment 2016 North American tour stops at this location.
Watch 'Well, Everybody's F—ing in a UFO' lyric video below and tell us what you think of it. Leave us your comments below and stay tuned with Alterock Facebook and Twitter to never miss on the news about your favorite alternative music!