New Years Day's front lady Ash Costello has put on her Daddy's Little Monster T-shirt, and she's ready to go!
April 6, 2016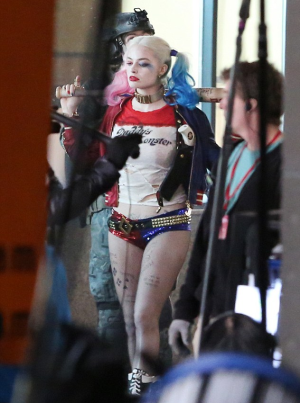 Today's winner of Tweet of the Day is by far Ash Costello, New Years Day singer. She seems to be 100% prepared for the upcoming highly anticipated release of Suicide Squad movie: she has tweeted a photo of herself wearing a Daddy's Little Monster T-shirt, which the squad beauty Harleen «Harley Quinn» Quinzel shows off in the film. Ash wrote in her comment: «Anyone else looking forward to the #SuicideSquad movie? @ash_costello is!»
Harley's outfit in the movie is damn sexy: short shorts and high heeled sneakers, topped up with a bad-girl look on her face. The role is played by Australian actress Margot Robbie, who we all remember from The Wolf of Wall Street. In Suicide Squad film, Harley is the Joker's on-and-off girlfriend. Now, Alterock has an intriguing question for you, Ash: who is YOUR Joker?
In the film, The Joker's character is mastered by Jared Leto, while Will Smith plays Deadshot, best known as Batman, and Tom Hardy takes on the role of the group's leader, Rick Flagg. The film is set to premiere August 5, 2016.
Leave us your comments below and stay tuned with Alterock Facebook and Twitter to never miss on the news about your favorite alternative music!
Anyone else looking forward to the #SuicideSquad movie? @ash_costello is! @nydrockpic.twitter.com/QHjfGefryp

— Another Century USA (@anothercentury) April 6, 2016