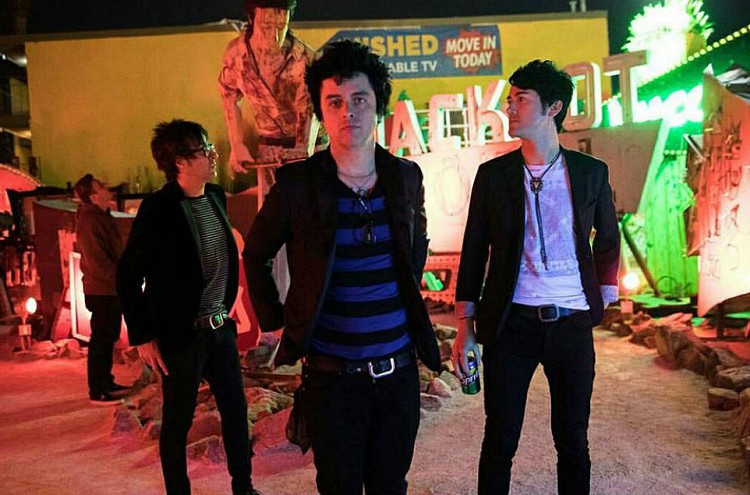 The Longshot has also shared a music video for the title track, 'Love Is For Losers'
April 20, 2018
Now that's a shock! Green Day's singer, Billie Joe Armstrong, has not only introduced his new band, The Longshot, but the group has also released a surprise debut album, Love Is For Losers. The band unveiled a music video for the title track, followed by a summer tour announcement in support of the debut record. Be sure to watch The Longshot's music video for 'Love Is For Losers' below:
Unfortunately, this awesome release from Green Day's frontman and his mates happens to drop on the same day as the shocking news about the death of the Swedish DJ Avicii, with whom Billi Joe collaborated on the track 'No Pleasing A Woman'. The song was never officially released but leaked after one of Avicii's DJ sets. Give 'No Pleasing A Woman' a listen below:
More: Billie Joe Armstrong invites rockstar Joan Jett for surprise show at Geezer premiere
https://youtu.be/risUP4f1fZQ
Billie Joe Armstrong hasn't given any comments yet.
The Longshot are hitting the road in just two weeks, starting May 3, along with Frankie + The Studs and the Trash Bags. Tickets will go on sale next Friday (via AltPress). See the full list of cities and dates below.
Share your thoughts in the comments, and join AlteRock Facebook and Twitter to stay tuned for rock and metal news.
The Longshot 2018 Tour Dates:
5/3 — Tijuana, MX @ The Moustache
5/4 — Las Vegas, NV @ Beauty Bar Vegas
5/5 — Phoenix, AZ @ Valley Bar
5/7 — Los Angeles, CA @ The Hi Hat
5/8 — Santa Ana, CA @ Constellation Room
5/9 — San Francisco, CA @ Rickshaw Stop
5/11 — Seattle, WA @ Chop Suey
5/12 — Bellingham, WA @ Wild Buffalo House of Music
5/13 — Vancouver, BC @ Rickshaw Theatre
5/15 — Portland, OR @ Dante's
5/22 — New York, NY @ Coney Island Baby
5/23 — New York, NY @ Coney Island Baby
5/25 — Washington, DC @ Black Cat
5/26 — Baltimore, MD @ Ottobar
5/28 — Toronto, ON @ The Horseshoe Tavern
5/29 — Montreal, QC @ Les Foufounes Electriques
5/31 — Pawtucket, RI @ The Met
6/1 — Brooklyn, NY @ Baby's All Right
6/2 — Philadelphia, PA @ The First Unitarian Church