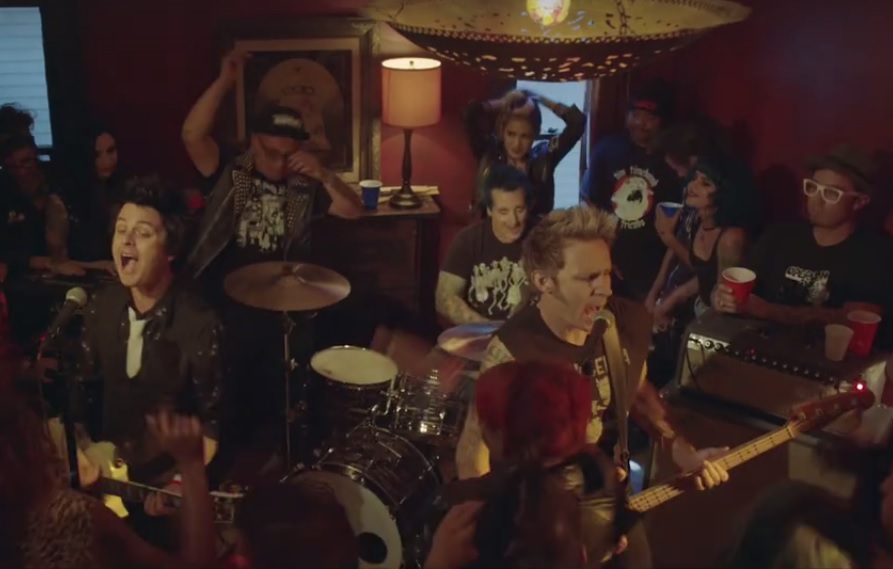 The single is featured on the band's forthcoming album, Revolution Radio
September 14, 2016
You've all heard Green Day's latest single 'Bang Bang' and seen the lyric video for it a few days ago. Now there's also an official music video for the song, directed by Rancid frontman Tim Armstrong (watch below).
More: GREEN DAY Announce Intimate North American Tour + European Arena Tour
The clip shows the bank robbery by a gang in disguise who are immediately identified as Green Day members in breaking news on TV. The three robbers jump in the car with the stolen cash, which they take to Green Day's house gig. In the car the robbers take off their masks and turn out to be… Well, go ahead and watch it yourself.
Revolution Radio is set for release October 7. The album is inspired by the band's agner at the state of America and that the rise of Donald Trump, as frontman Billie Joe Armstrong explained earlier. In his interview with Kerrang! in August he said:
«The worst problem I see about Trump is who his followers are. «I actually feel bad for them, because they're poor, working-class people who can't get a leg up. They're pissed off and he's preyed on their anger. He just said: 'You have no options and I'm the only one, and I'm going to take care of it myself.' I mean, that's fucking Hitler, man.»
Another inspiration when writing the album was Armstrong's rehab experience, which found its way of expression on 'Revolution Radio'.
Check out the official 'Bang Bang' video below and leave us a comment with your thoughts. Share the news and stay tuned with Alterock Facebook and Twitter to never miss on the news about your favorite alternative music!
More: GREEN DAY Explain Why They Wrote New Album in Secrecy, Share 'Ordinary World' Release Date
[fbvideo link=»https://www.facebook.com/GreenDay/videos/10154539409469521/» width=»500″ height=»400″ onlyvideo=»1″]