The Andy Show is a weekly comedy talk show, discussing current events, with guests from music industry
October 26, 2016
Andy Biersack, Black Veil Brides frontman, also known as Andy Black, is teasing his own talk show, simply titled The Andy Show. It will premiere already this fall and will be co-hosted by Biersack and his cousin Joe Flanders, reports AltPress.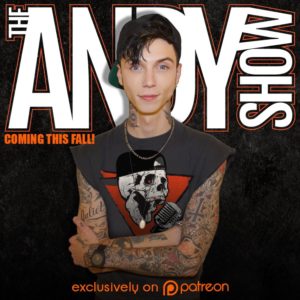 "TAS will be a weekly comedy talk show where we will discuss current events, what's on our minds and also have the chance to chat with guests from the entertainment and music industry," Biersack reveals in his Instagram post.
Besides the two show hosts, The Andy Show will also feature Patrick Fogarty, Black Veil Brides' manager and Ozzy Osbourne bassist Rob "Blasko" Nicholson. The show hosts have already launched a Twitter page for it: twitter.com/theandyshowtv
But having your own talk show is not a cheap thing to do, so Biersack and Co. are offering a monthly subscription through Patreon that give you access to special bonus material and, in turn, help fund the show.
Check out Biersack's teaser and his full Instagram post introducing The Andy Show below. What guests from music industry would you like Andy to chat with on the show? Be the first to leave your comments and stay tuned with Alterock Facebook and Twitter to never miss on the news about your favorite alternative music!