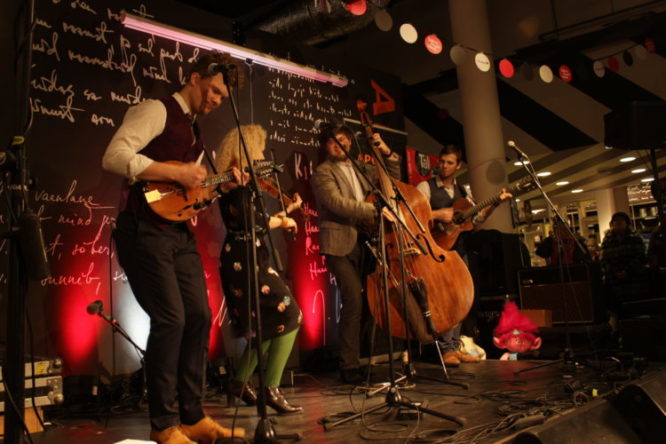 Every year the festival welcomes applications from music acts from all over the world, and 2017 has broken the record, with 1470 artists hoping to get the chance to play live
April 3, 2017
For three whole days, March 30 – April 1, the heart of Estonia, Tallinn, was home to more than two hundred up-and-coming singers and bands from all over the world thanks to Tallinn Music Week. We're happy to share our many impressions of the festival with you.
[quote align="center" color="#COLOR_CODE"]A total of 1470 artists had sent in their applications to become TMW performers! The panel of music industry experts and music fans chose 237 artists from 33 countries to take the stage.[/quote]
Probably, the biggest highlight of the whole showcase festival was the event… that was not even on the festival agenda! It was a surprise show by Danish-African rapper Black Daniels and a home-grown up-and-rising singer Tommy Cash, who has taken the world by storm by his intentionally ridiculous manner of rapping and daring, out-of-this-world videos.
TMW debates: Streaming apps: music of all genres for all ages or not? Delegates discuss Spotify, iTunes and the like
Both performances took place on Maakri street, where the pop-up stage was constructed in between the… garages and old wooden houses, because why not? Black Daniels delivered a highly energetic set and the place got packed with people, many of whom simply got curious what was happening on such a typical city street of Tallinn.
The stage was then taken by an in-your-face rapper Tommy Cash, who has just got the Estonian Music Award this year for the best music video. Cash went viral with songs/videos like 'Winaloto' or 'Euroz Dollaz Yeniz'. When Cash noticed that Estonian audience found it way harder to get into the groove than the foreign music fans (not a surprising fact), he decided to remind the crowd: "It's not some Anne Veski concert" (Anne Veski is a famous local pop-singer). Just like in his videos, the rapper showed he was a true showman, and the weird, nasty youtube videos on the screen completed a really kinky but fun performance.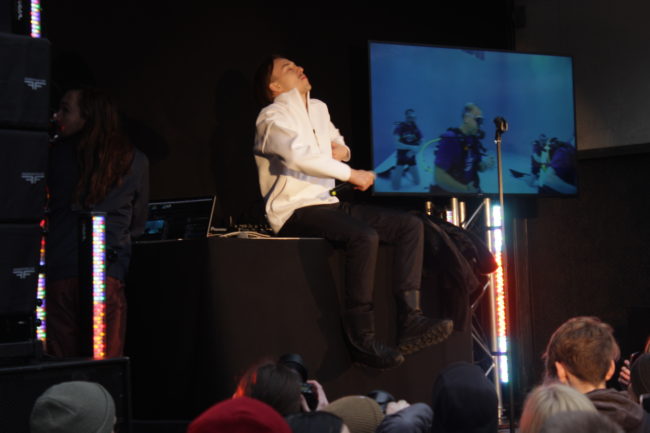 But Tallinn Music Week couldn't be complete without a run of jazz shows, which culminate in the annual local Jazzkar festival. First, we got impressed with the Estonian musician Erki Pärnoja and his band Efterglow who left typical jazz instruments like trumpets, saxophones and piano behind in favor of electric guitars and a keyboard.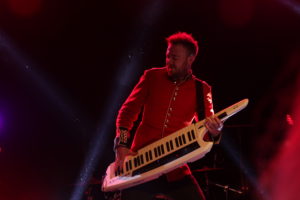 And a true delight was the set by the British jazz act WorldService Project who produced a strong, long-lasting impression on the audience. The band was pure force, full of rhythm and stage presence, but they also connected well with the audience. The British musicians even had time for a Brexit joke, which the public liked a lot.
Although none of the music media could possibly make to see all the 237 bands live, we did our best to catch "the plums" on stage, and we'll finish up by telling you about the pearl of the festival, a local folk project Curly Strings, which people could get a taste of at the Apollo Bookshop in the city's 4-storey shopping center.
This extraordinary Estonian group has something about them that makes your day: an unusual combination of a mandolin, a violin, a guitar and a double bass, coupled with catchy tunes make them stand out on the Baltic music scene. The cozy bookshop venue made this concert especially joyful for all, from regular bookshop goers to families with kids and festival delegates. It was, without a doubt, one of the most beautiful concerts of the day.
More: Tallinn Music Week 2017 – music you never even thought you need and wanted to hear…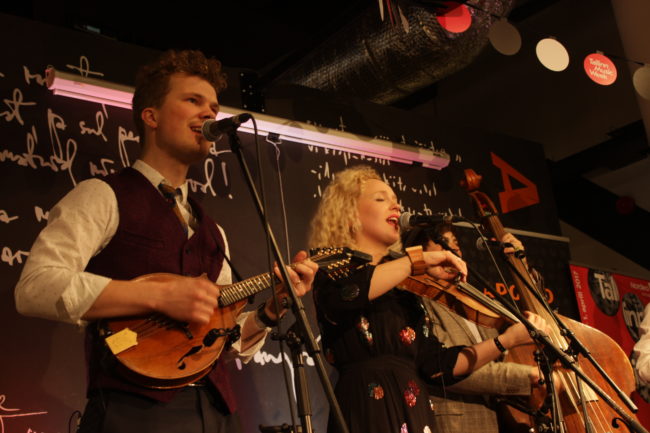 Do you like what we're doing? If so, help us grow by sharing the article – this way we can keep providing you latest news and fun interviews with your favorite bands! Stay tuned with AlteRock Facebook and Twitter to never miss on the news about your favorite alternative music!
Text: Tatiana Vinichenko, Isaac Diaz Carpio
Photo credit: Isaac Diaz Carpio, AlteRock
Check out our very own Tallinn Music Week gallery below: