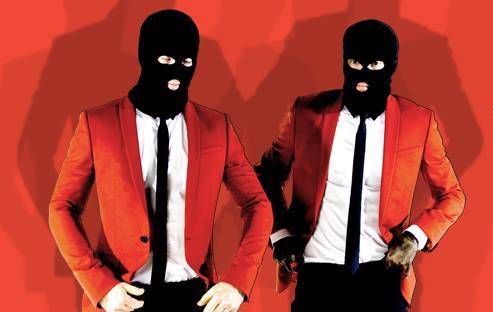 The cover appears on Rock Sound's tribute album for My Chemical Romance's Black Parade
September 14, 2016
As Rock Sound is getting ready to release a tribute album for My Chemical Romance's Black Parade, fans have finally got the chance to check out the surfaced cover by twenty one pilots for MCR's hit 'Cancer'.
More: TWENTY ONE PILOTS Win Best Rock Video Award at 2016 MTV VMAs
The band's 'Cancer' cover release isn't a surprising move: twenty one pilots' fans saw Tyler Joseph upload (and then delete) a teaser of him singing MCR's song quite a while ago. Now you can hear the full cover (stream the video below).
The tribute album will contain also MCR covers from Asking Alexandria, Escape The Fate, Ghost Town, Moose Blood, State Champs, Crown The Empire and others. The record comes with the copy of September 14′ issue of Rock Sound magazine. See the CD's tracklist below.
If you've missed recent news from MCR, the band's updated logo and a teaser video had made a big fuss, hinting at something big coming from Gerard Way and Co., possibly a forthcoming reunion.
The band saw the rumors escalating and made an official announcement that the plan was to simply re-release their extremely successful album The Black Parade in the light of the upcoming 10th anniversary of the record. The disc will contain previously unreleased demos, which hadn't made it to the record's final cut.
More: SUICIDE SQUAD Soundtrack Features Panic! At The Disco, Twenty One Pilots, Imagine Dragons
Give twenty one pilots' version of MCR's 'Cancer' a listen below. What do you think of it? Share your thoughts in the comments, and join Alterock Facebook and Twitter to stay tuned for rock and metal news.
Rock Sound's Black Parade Tracklist:
The End. – ONE OK ROCK
Dead! – Escape The Fate
This Is How I Disappear – Creeper
The Sharpest Lives – State Champs
Welcome To The Black Parade – Crown The Empire
I Don't Love You – Moose Blood
House Of Wolves – Palisades
Cancer – Twenty One Pilots
Mama – Ghost Town
Sleep – New Years Day
Teenagers – Against The Current
Disenchanted – Chunk! No, Captain Chunk!
Famous Last Words – Asking Alexandria