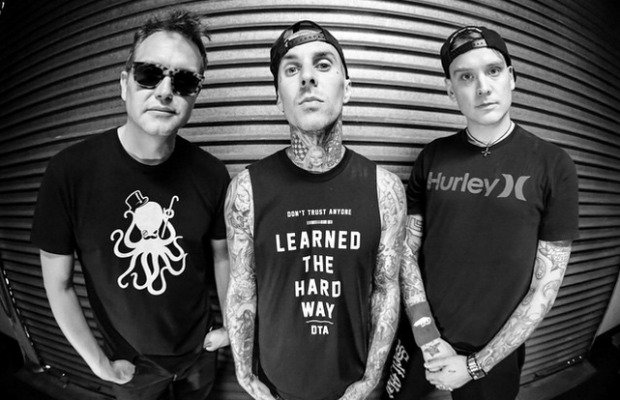 Listen to Blink-182 go less punk and more hardcore in their new song '6/8'
April 28, 2017
You don't see it every day that a deluxe edition of the album is as engaging and full of surprises at the album itself. But that's exactly the case with Blink-182's upcoming deluxe California release. 'Dude, we got a problem, the deluxe album might even be better than California', Travis Barker told their producer John Feldmann. And Barker has a point. Following the catchy track 'Misery', released last month, the band's new song '6/8' is something to not miss out.
The group says '6/8' is "the strangest song they've ever recorded". The title refers to the time signature, and in certain parts the sound is pretty hardcore, so Blink-182 are obviously expanding their musical spectrum, going beyond the realm of punk-rock. Most probably, it's the reason why '6/8' is one of the band's favorite new songs.
Listen: BLINK-182 release captivating song 'Misery'
California deluxe edition features 11 new songs, which practically means we've got the second full-length from Blink-182 just a few month since California hit the stores. The deluxe version is due for release May 19, closely following the original album, which dropped on July 1 of last year, reaching No. 1 in multiple charts.
But Mark Hoppus and co. aren't planning to sit and enjoy the success of the album. Instead, Hoppus recently revealed to Zane Lowe that by the end of this year, the band intends to start writing new material:
[quote align="center" color="#COLOR_CODE"]"We're doing this run in the US, then later on we're touring Europe and the UK. Then we come back and do some more dates in the US," says the frontman. "Then we'll take a little bit of time off, and then at the end of this year, we'll go back into the studio and start writing the next album."[/quote]
Looks like Blink-182 are unstoppable and tireless. Listen to '6/8' below and share in the comments if you agree this is the band's "strangest song" from California. Be the first to leave your comments and stay tuned with AlteRock Facebook and Twitter to never miss on the news about your favorite alternative music!
More: "It's not a collection of throwaway songs" Mark Hoppus talks California Deluxe Edition
This is the strangest song blink have ever recorded. It's in 6/8 time. It's aggressive & one of our favorites from the deluxe because of it. pic.twitter.com/APpGJP74vA

— blink-182 (@blink182) April 27, 2017