The tour of the two alt-rock superstars will start in May and run through late September
February 6, 2017
Yes, two powerhouses are going to hit the road together this spring and summer! Muse have announced a 2017 North American tour with special guests Thirty Seconds to Mars and support from the up-and-rising Massachusetts band PVRIS.
More: MUSE frontman predicts the «end of US global hegemony», links Trump's America to Orwell's dystopia '1984'
Both bands have been pretty low-key lately, especially Thirty Seconds to Mars. Their latest release to date was Love, Lust, Faith and Dreams, which dropped back in 2013. The album was, of course, followed by an extensive tour through 2014, but since then the band hasn't written new music and there's only been occassional one-off shows.
In August 2016, Thirty Seconds to Mars started to tease their fifth studio album, expected to be released in 2017. The teaser showed the band in a desert location writing new material. Jared Leto and co. had long been in the public eye going through the legal battle with labels EMI and Virgin. Since then they've inked a deal with Interscope and promised to put out a new record.
For the tour headliner, Muse, things have been working more than smoothly. Their latest album, Drones, released in 2015, was followed by a mindblowing tour with 150 shows over the past two years. The massive 360-degrees arena world tour was a stunning experience, which took the band to #20 on Forbes Top 20 Highest Paid Musicians of 2016, putting them next to AC/DC and Rolling Stones.
Must-read: MUSE Make It to Forbes Top 20 Highest Paid Musicians of 2016
Since the end of the touring run in support of Drones in August 2016, Muse haven't indulged us in new material or new gigs. We don't know what Muse are up to on this upcoming tour but the band's tour director Glen Rowe has recently revealed that the group has grandiose, mind-blowing plans for their next world tour. The trio intends to 'levitate on magnets':
"We want to do a stage made of magnets so the band can levitate on other magnets,» Rowe said at the MUSEXPO conference. «It's those questions that keep me awake every night of my life. If there are any magnet technicians out there, please come and see me because that's what we're trying to achieve."
So you don't want to miss the chance to catch the two world famous acts one stage. Presale tickets go on sale Wed., Feb. 8 at 10AM local time, and general sale launches Friday, Feb. 10 at 10AM via Live Nation. In addition, both Thirty Seconds To Mars and Muse are booked for Bunbury Festival (Cincinnati, Ohio) and Denver's Firefly Festival (Dover) this June.
Check out the full list of dates and venues below. Join AlteRock Facebook and Twitter to stay tuned for rock and metal news.
Watch: JARED LETO plays revealing 'Never Have I Ever' game on Ellen Show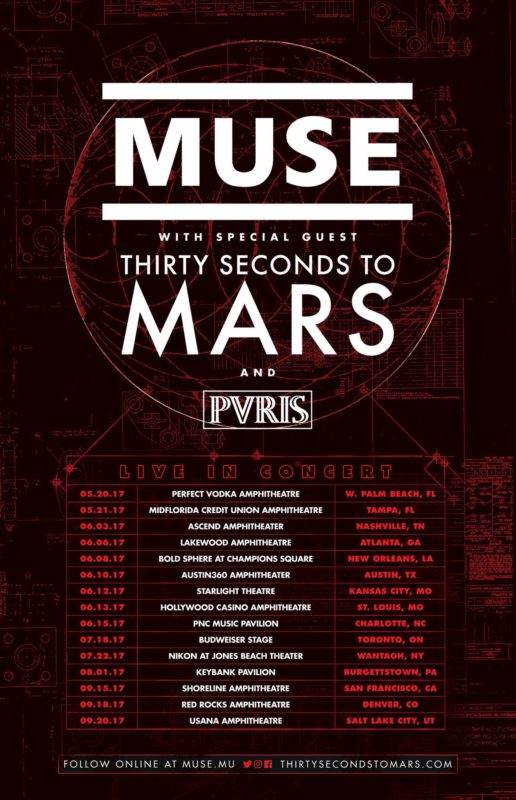 Muse and Thirty Seconds to Mars 2017 Dates (with PVRIS):
20 May | West Palm Beach, FL | Perfect Vodka Amphitheatre
21 May | Tampa, FL | MIDFLORIDA Credit Union Amphitheatre
03 June | Nashville, TN | Ascend Amphitheater
06 June | Atlanta, GA | Lakewood Amphitheatre
08 June | New Orleans, LA | Bold Sphere at Champions Square
10 June | Austin, TX | austin360 Amphitheater
12 June | Kansas City, MO | Starlight Theater
13 June | St. Louis, MO | Hollywood Casino Amphitheatre
15 June | Charlotte, NC | PNC Music Pavilion
18 July | Toronto, ON | Budweiser Stage
22 July | Wantagh, NY | Nikon at Jones Beach Theater
01 August | Burgettstown, PA | KeyBank Pavilion
15 September | San Francisco, CA | Shoreline Amphitheatre
18 September | Morrison, CO | Red Rocks Amphitheatre
20 September | Salt Lake City, UT | USANA Amphitheatre