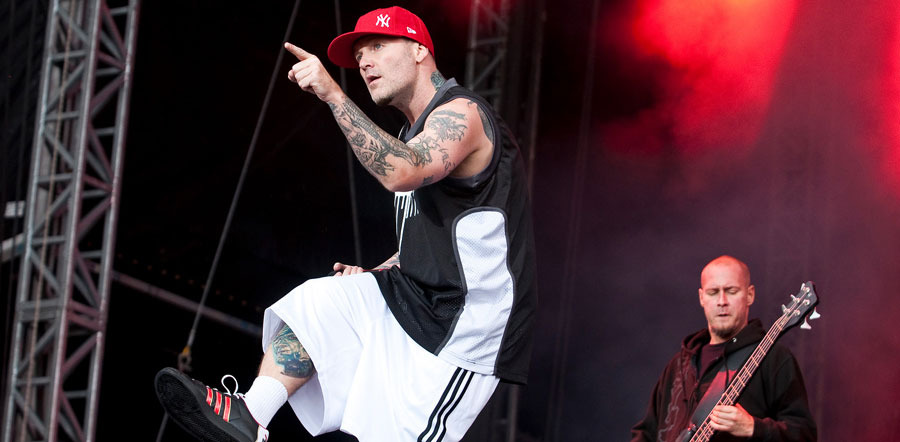 Limp Bizkit finished the show one song early after the roof collapsed, dumping water on the guitarist
August 21, 2018
Whoa! It couldn't be more ironic. While playing their destruction-encouraging song 'Break Stuff', Limp Bizkit witnessed natural forces make stuff actually break! During the band's show on August 12 in Winchester, England, the roof of Matterley Estate partially collapsed, dumping loads of water all over guitarist Wes Borland and his pedalboard. Be sure to watch the fan-made video footage below.
More: Korn guitarist thanks Linkin Park fans for forgiveness after his angry comment on Chester's suicide
"Aww, shit! The pedalboard is gonna go out right now," commented frontman Fred Durst. Limp Bizkit kept surprisingly calm and professional though. They didn't interrupt the song and somehow managed to finish 'Break Stuff'. That's when Borland's rig turned a wreck. Durst and co. ended the band's set one song early, explaining:
[quote align="center" color="#COLOR_CODE"]"Unfortunately, the guitar rig just blew up. On that note, I'd like to say how grateful I am, because tonight, genuinely, was fucking incredible. Thank you so much."[/quote]
More: Fan dies after falling down onto metal rods at Chevelle show
Following the stage mishap, Borland posted a photo of the damaged rig on Instagram. The caption reads, "This is what a pedalboard looks like when it rains all day and the ceiling of the stage you're playing breaks open and a jacuzzi amount of water gets dumped on top of you on the second to last song of your set."
With the help of the crew, Borland was able to get everything fixed in two days so the band could keep on touring. Tonight, August 21, Limp Bizkit went on to rock a venue in Germany. This performance is the last one in the group's tour this year, apart from a one-off show in Indonesia scheduled for September 9.
Do you think it's ironic that the roof collapsed exactly during Limp Bizkit's 'Break Stuff' performance? Share your thoughts in the comments, and join AlteRock Facebook and Twitter to stay tuned for rock and metal news.