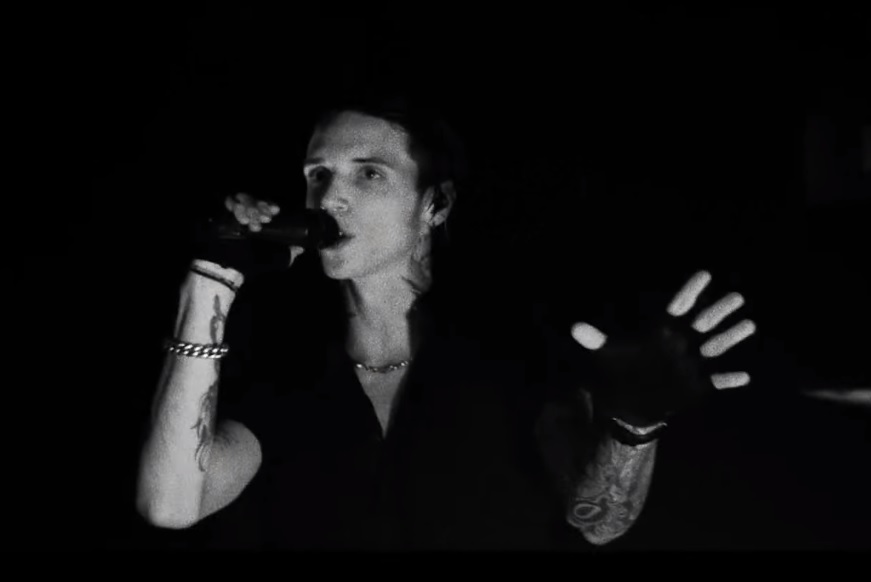 At the time of the burglary Andy Biersack and his wife were sleeping in the residence
May 30, 2018
Black Veil Brides singer Andy Biersack had a scary experience this past weekend. While he and his wife, Juliet Simms, were quietly sleeping at home, a burglar broke in and stole "nearly all" of Black Veil Brides memorabilia and costumes. Biersack's car trunk was also broken into.
"We had a break in last night around 1 am," the singer wrote on Twitter on Saturday, May 26. "The thief took years worth of BVB memorabilia including my STWOF stage outfits, countless things i have collected and hoped to share with my family one day." Biersack also included a picture of the robber taken by a security camera.
Biersack thanked his fans for being supportive after hearing about the robbery. "The items the thief took are just material things and while they have nostalgic significance to me, at the end of the day the safety of my family is all that matters. Also for what it's worth I do not wish the person who did this any ill will, I just hope that they can come to understand the massive privacy violation they have put us through and I hope that my memories and personal effects that were stolen end up in the right hands one day."
The BVB frontman and his wife hadn't even heard the burglar enter or walk around the residence. It was the following day that a neighbour told him that there was a suspicious stranger nearby.
"He did not take anything else, in watching the security tape footage he was very specific in what he wanted and why he was there. He had 2 bags and filled them with jackets, pants, gloves, tour laminates, LPs etc," Biersack added. "We were asleep when the robbery itself went down/never heard anything. He was quick & efficient. He picked the lock to our gate outside & wore gardening gloves, i guess to not leave finger prints. It all sucks but again, I'd gladly lose all my stuff as long as my family is safe."
Check out all related Biersack tweets about the robbery incident below. Do you like what we're doing? If so, help us grow by sharing the article – this way we can keep providing you latest news and fun interviews with your favorite bands! Stay tuned with AlteRock Facebook and Twitter to never miss on the news about your favorite alternative music!
We had a break in last night around 1 am. The thief took years worth of BVB memorabilia including my STWOF stage outfits, countless things i have collected and hoped to share with my family one day. If you see anything on a resale site please let me know ? here he is: pic.twitter.com/iDktQjrNqY

— Andy Biersack (@andyblack) May 26, 2018
I appreciate those of you who have been so kind and supportive in regards to the robbery at our home last night. The items the thief took are just material things and while they have nostalgic significance to me, at the end of the day the safety of my family is all that matters

— Andy Biersack (@andyblack) May 27, 2018
Also for what it's worth I do not wish the person who did this any ill will, I just hope that they can come to understand the massive privacy violation they have put us through and I hope that my memories and personal effects that were stolen end up in the right hands one day.

— Andy Biersack (@andyblack) May 27, 2018
He came in through the garage and we were unaware of it initially. It wasn't until we were notified by a neighbor mid day that a stranger was outside last night. Later we found storage torn open & nearly all of my BVB memorabilia/costumes were gone and my car trunk busted open https://t.co/GJYMKbfmxz

— Andy Biersack (@andyblack) May 27, 2018
He did not take anything else, in watching the security tape footage (he covered up most of the cameras but 1) he was very specific in what he wanted and why he was there. He had 2 bags and filled them with jackets, pants, gloves, tour laminates, LPs etc.

— Andy Biersack (@andyblack) May 27, 2018
We were asleep when the robbery itself went down/never heard anything. He was quick & efficient. He picked the lock to our gate outside & wore gardening gloves, i guess to not leave finger prints. It all sucks but again, I'd gladly lose all my stuff as long as my family is safe.

— Andy Biersack (@andyblack) May 27, 2018