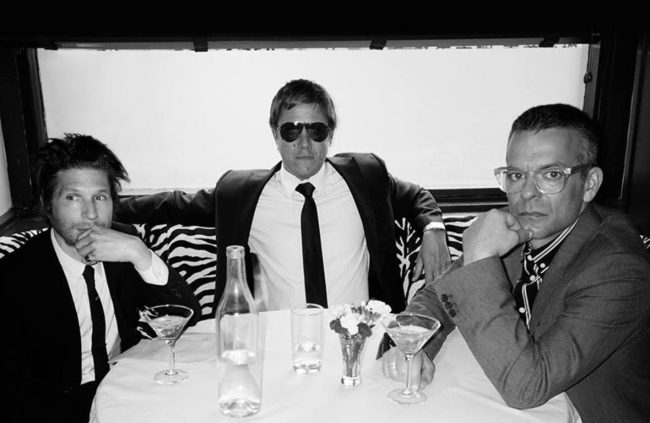 Actress Kristen Stewart and actor Finn Wittrock go wild in Interpol's video 'If You Really Love Nothing'
August 23, 2018
Just a day ahead of their new album release, American indie-rockers Interpol dropped a new song and clip 'If You Really Love Nothing.' And not just a clip, but a clip starring the famous leading Twilight actress, Kristen Stewart, along with American Horror Story's star Finn Wittrock.
"Here she comes to wreck the day!" – these Jim Carrey's words came to my mind as I watched Stewart's twisted, adventurous character throughout the music video. The wicked lady is wrecking and spoiling everything on her way, messing in a club with everyone from visitors to kitchen staff. Watch the video below!
More: Arcade Fire and fans react to strict "hip and trendy" dress code for their show
Directed by Hala Matar, 'If You Really Love Nothing' video is obviously referring to people having nothing to live for and nothing to lose. It's Interpol's third single from the upcoming new album, the previous ones being 'The Rover' and 'Number 10.'
Paul Banks and co. also appear in the video, in simple performance scenes, and that's the only thing reminding us we're watching a music video, not a motion picture.
Interpol's new Marauder album is out August 24 via Matador Records. It marks the band's first new album in four years, following 2014′ El Pintor. Check out the music video and be sure to take a look at Interpol's upcoming tour dates after the clip below.
Do you like what we're doing? If so, help us grow by sharing the article – this way we can keep providing you latest news and fun interviews with your favorite bands! Stay tuned with AlteRock Facebook and Twitter to never miss on the news about your favorite alternative music!
Interpol Fall/Winter 2018 Tour Dates:
08/23 – Philadelphia, PA @ Union Transfer
08/24 – Brooklyn, NY @ House of Vans
09/11 – Boston, MA @ Orpheum Theatre
09/12 – Montreal, QC @ Olympia Theatre
09/13 – Toronto, ON @ Rebel
09/14-16 – Chicago, IL @ Riot Fest
09/16 – Detroit, MI @ Royal Oak Theatre
09/17 – Columbus, OH @ Express Live
09/27 – Dallas, TX @ Bomb Factory
09/28 – Austin, TX @ Bass Concert Hall
09/29 – Houston, TX @ White Oak Music Hall Lawn
10/01 – Phoenix, AZ @ Van Buren
10/04 – Los Angeles, CA @ Hollywood Bowl
10/05 – San Diego, CA @ SDSU Open Air Theater
10/06 – Berkeley, CA @ Greek Theater
11/06 – Tokyo, Japan @ Akasaka Blitz
11/14 – London, England @ Royal Albert Hall
11/16 – Manchester, England @ O2 Apollo
11/18 – Dublin, Ireland @ Olympia Theatre
11/23 – Hamburg, Germany @ Mehr! Theater
11/24 – Copenhagen, Denmark @ TAP1
11/25 – Berlin, Germany @ Tempodrom
11/27 – Utrecht, Netherlands @ Tivoli Vredenburg
11/28 – Brussels, Belgium @ Forest National
11/29 – Paris, France @ La Salle Pleyel
01/31 – Vancouver, BC @ Queen Elizabeth Theatre
02/01 – Portland, OR @ Keller Auditorium
02/02 -Seattle, WA @ Moore Theatre
02/05 – St. Paul, MN @ Palace Theatre
02/08 – Milwaukee, WI @ Pabst Theater
02/09 – St. Louis, MO @ The Pageant
02/11 – Nashville, TN @ Marathon Music Works
02/14 – Raleigh, NC @ The Ritz
02/15 – Washington, D.C. @ The Anthem
02/16 – New York, NY @ Madison Square Garden