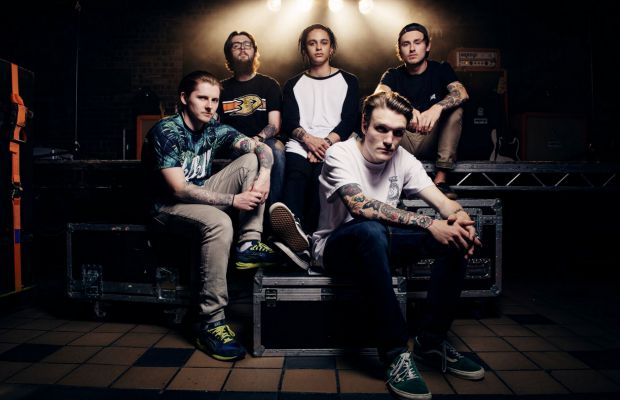 Neck Deep have shared an acoustic performance of Fall Out Boy's 'Grand Theft Autumn'
March 30, 2016
Energetic rockers from Wales, Neck Deep, have recently performed an acoustic cover of Fall Out Boy's melodic track 'Grand Theft Autumn' during the Alternative Press Tour. 'Grand Theft Autumn' is featured on FOB's debut album, Take This To Your Grave. In the video below, you can check out Neck Deep's performance, which definitely adds a new touch to FOB's classic.
More: Watch NECK DEEP show their bold punk side in the music video for 'Gold Steps'
In case you've missed it, a couple of weeks ago Neck Deep launched quite a creepy music video for their song 'Serpents'. It is a performance/animation video for the third single from their sophomore effort, Life's Not Out To Get You, released in August 2015 via Hopeless Records. Watch the 'Serpents' music video below.
Neck Deep are currently rocking a co-headlining AP Tour with State Champs. Check out the upcoming tour dates routing below to catch the band live this spring/summer.
Give Neck Deep's cover performance a listen below. Do you prefer Ben Barlow's vocals or original Patrick Stump's vocals in the song and why? Share your thoughts in the comments, and join Alterock Facebook and Twitter to stay tuned for rock and metal news.
Neck Deep 2016 Tour Dates:
April 1- MTC – Cologne, Germany
April 2 – Headcrash – Hamburg, Germany
April 3 – Melkweg – Amsterdam, Netherlands
April 4 – Music & Frieden – Berlin, Germany
April 6 – Schlachthof – Wiesbaden, Germany
April 7 – Kelllerklub – Stuttgart, Germany
April 9 – Rockplanet – Cervia Ra, Italy
April 10 – Legend Club – Milan, Italy
April 11 – Strom – Munich, Germany
April 12 – Arena – Vienna, Austria
April 13 – Dynamo – Zurich, Switzerland
April 14 – WarmAudio, Decines Charpieu, France
April 16 – Guildhall – Southampton, United Kingdom
April 18 – Uni – Newcastle, United Kingdom
April 19 – Beckett – Leeds, United Kingdom
April 20 – Academy – Liverpool, United Kingdom
June 10 – Donington Park – Derby, United Kingdom
June 24 – Jera On Air – Ysselsteyn, Netherlands