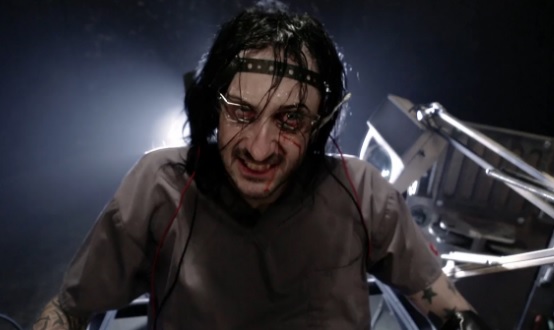 The musicians have unleashed their new music video 'Blood Money', rich in "sex, drugs, blood and lust"
July 15, 2016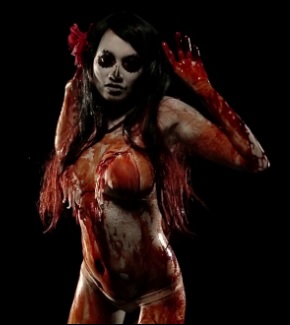 Dope have released a music video in their best traditions: there's plenty of blood, as well as dollar bills and, of course, a sexy chick (covered in blood head to toe this time).  The new video for 'Blood Money' has been premiered today via Loudwire. You can watch the clip below.
'Blood Money' is the title track from Dope's upcoming album Blood Money Part 1. Frontman Edsel Dope appears in a number of roles in the video. First, we see the Edsel dressed in an classy suit, then we find him strapped in, in the most horrifying way possible, and being tortured by sex, drugs and rock'n'roll clips running on the screen. Finally, the singer appears covered in mud all over his body, singing ferociously, with fire bursting out on the background.
More: DOPE offer live album, launch campaign for Reunion Tour — watch Edsel's message to fans here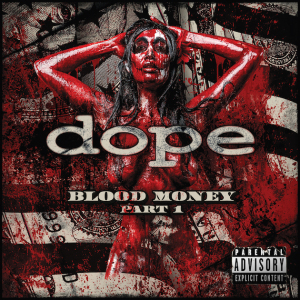 The new record, Blood Money Part 1, is set for release October 28, so have a bit more patience, fervent Dope fans. In the meantime, check out album artwork and tracklist below. You can pre-order the album on the band's website or via iTunes. Dope's latest record to date, No Regrets, came out in 2009.
The group recently reunited with the band's classic lineup of Edsel Dope, Acey Slade, Virus and Racci Shay in order to rock their new tour, titled Die Mother F–ker Die. Crowdfunded by pre-orders for the band's live album, the group will hit nearly 50 locations on the upcoming tour. The band will set off September 13 in San Francisco and tour for almost two months, wrapping up on October 30 in Los Angeles. See Dope's fall tour dates below.
What are your thoughts on the band's new video? Be the first to leave your comments, share the article, and stay tuned with Alterock Facebook and Twitter to never miss on the news about your favorite alternative music!
Dope, Blood Money Part 1 Track Listing
1. "Intro: Confessions of a Felon"
2. "Blood Money"
3. "Shoulda Known Better"
4. "Lexipro"
5. "Hold On"
6. "1999"
7. "Razorblade Butterfly"
8. "Drug Music"
9. "A New Low"
10. "Hypocrite"
11. "X-Hale"
12. "End of the World"
13. "Selfish"
14. "Numb"
15. "Violet"
Dope's "Die Mother F–ker Die" 2016 Tour
09/13 – San Francisco, Calif. @ DNA Lounge
09/14 – Portland, Ore. @ Hawthorne Theatre
09/15 – Vancouver, British Columbia @ The Rickshaw
09/17 – Seattle, Wash. @ Studio Seven
09/18 – Spokane, Wash. @ The Pin
09/19 – Idaho Falls, Idaho @ The Falls Venue
09/20 – Denver, Colo. @ Herman's Hideaway
09/21 – Colorado Springs, Colo. @ Sunshine Studios
09/22 – Omaha, Neb. @ Sokol Underground
09/23 – St Louis, Mo. @ Firebird
09/24 – Minneapolis, Minn. @ The Cabooze
09/25 – Des Moines, Iowa @ Lefty's
09/26 – Sioux Falls, S.D. @ Big's Bar
09/27 – Waterloo, Iowa @ The Reverb
09/28 – Stevens Point, Wis. @ Live On Main
09/29 – Chippewa Falls, Wis. @ Every Buddy's
09/30 – Battle Creek, Mich. @ Music Factory
10/01 – Flint, Mich. @ Machine Shop
10/02 – Madison, Wis. @ Sonic Boom
10/03 – Toledo, Ohio @ Realm
10/04 – Chicago, Ill. @ Concord Music Hall
10/05 – Cleveland, Ohio @ The Agora
10/06 – Columbus, Ohio @ Park Street Saloon
10/07 – Lancaster, Pa. @ Chameleon Club
10/08 – Stroudsburg, Pa. @ Sherman Theater
10/09 – Rochester, N.Y. @ Montage Music Hall
10/10 – Toronto, Ontario @ Hard Luck
10/11 – Ottawa, Ontario @ Mavericks
10/12 – Montreal, Quebec @ Pirahna Bar
10/13 – Amityville, N.Y. @ Revolution
10/14 – Worcester, Mass. @ Rock N Shock @ Palladium
10/15 – Baltimore, Md. @ Fish Head Cantina
10/16 – Fayetteville, N.C. @ The Rock Shop
10/17 – Atlanta, Ga. @ Heaven – Masquerade
10/18 – Lake Charles, La. @ The Centerstage
10/19 – Austin, Texas @ Dirty Dog Bar
10/20 – Houston, Texas @ Scout Bar
10/21 – Dallas, Texas @ Trees
10/22 – Merriam, Kan. @ Aftershock
10/23 – Oklahoma City, Okla. @ 89th St. Collective
10/24 – Lubbock, Texas @ Backstage
10/25 – Gallup, N.M. @ The Juggernaut
10/26 – Phoenix, Ariz. @ Joe's Grotto
10/27 – San Diego, Calif. @ Brick By Brick
10/28 – Las Vegas, Nev. @ Counts Vamp'd
10/29 – Anaheim, Calif. @ City National Grove of Anaheim
10/30 – W. Hollywood, Calif. @ The Whisky