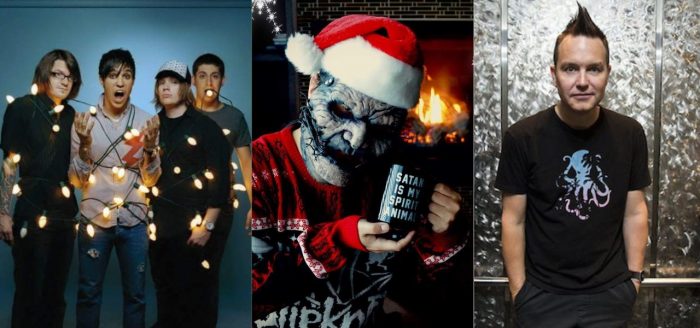 Did you know these bands have I-hate-Christmas songs in their repertoire? Get surprised!
December 27, 2018
If you don't feel much like Christmas, well, you're not alone. These rock bands also don't fancy the holiday and would rather set the gifts on fire or shoot their neighbors. We've prepared our Top 10 of anti-Christmas tracks performed by alternative or punk-rock bands.
1. Set It Off – 'This Christmas (I'll Burn It To The Ground)'
Despite anti-Christmas lyrics, this Set It Off song sounds way too sweet to consider it really anti-Christmas. Stealing presents and setting Christmas trees on fire is like "The Used-ish" version of Grinch. Add to that the "Fa-la-la" intro and 'Carol of the Bells'-flavoring, and you'll be playing this one in your head for hours:
This Christmas, I'll burn it to the ground!
This Christmas, Santa's skipping town!
This Christmas, everything will change, when they see the flames
This Christmas day!
2. Fall Out Boy – 'Yule Shoot Your Eye Out'
The 2019-Grammy-nominated Fall Out Boy might be enjoying Christmas time with their families but this song remains the most listened to FOB track during the winter holidays. Because some of us feel exactly like Patrick Stump:
Don't come home for Christmas
You're the last thing I wanna see
Underneath the tree
Merry Christmas, I could care less
Shocking news: Indonesian band Seventeen struck by tsunami on stage, 222 killed, 2 band members dead, 3 missing
3. Corey Taylor – 'X-M@$'
More of a monologue than a song, the Slipknot singer's 'X-M@$'is really in-your-face, because for Taylor there's "nothing more depressing than a pine tree/ Gussied up with candy canes and balls":
Now, I'm no wiccan commie nut or nothing
But there's one damn holiday that I can't stand
It ain't Halloween, or Thanksgiving, or even April Fools
But it'll surely make a fool out of every man
4. blink-182 – 'I Won't Be Home for Christmas'
Being at home with "the people you can't stand all year" isn't much fun for you? Then this blink-182 live performance will agree with you very well:
It's Christmas time again
It's time to be nice to the people you can't stand all year
I'm growing tired of all this Christmas cheer
5. New Found Glory – 'Ex-Miss'
Christmas is not so unbearable when jingle bell sounds are nicely intertwined with the punk-rock tune:
Everything that could have went wrong, went wrong this year
Nothing recently has made me want to stand up and cheer
6. All Time Low – 'Merry Christmas, Kiss My Ass'
Will you always remember Christmas as the time you broke up with your girlfriend or boyfriend? That's exactly what All Time Low felt when they wrote these lines:
Don't you think it's kind of crappy
What you did this holiday?
When I gave you my heart, you ripped it apart
Like wrapping paper trash
So I wrote you a song, hope that you sing along
And it goes, "Merry Christmas, kiss my ass!"
7. Weezer – 'Christmas Celebration'
For those who can't stand egg nog and the commercial side to Christmas, here is Weezer's track:
Carollers are singing
Registers ka-chinging
And the presents are in place
But i'd rather eat some mace
'Cause that egg nog always make me sick
8. The Killers – 'Don't Shoot Me Santa'
This is what would happen if Santa brought a gun instead of coal for those who haven't been so good this year? The Killers have their killer version of Santa:
BRANDON: "Oh Santa, I've been waiting on you"
SANTA: "That's funny kid, because I've been coming for you"
BRANDON: "Oh Santa, I've been killing just for fun"
SANTA: "Well the party's over kid, because I
Because I got a bullet in my gun"
9. Good Charlotte – 'Christmas by the Phone'
Breakup could have waited til New Years, sing Joel and Benji Madden in the not-so-happy 'Christmas by the Phone':
Why did you leave me for Christmas?
You left me lonely its true
Could you have waited til New Years?
At least the year would be through…
10. blink-182 – 'Happy Holidays, You Bastard'
We're rounding off with an anti-Christmas song that boasts such bad language we can't even quote it here. But if you hate spending time with your family this time of the year, the track might make your day.
Be the first to leave your comments and stay tuned with Alterock Facebook and Twitter to never miss on the news about your favorite alternative music!