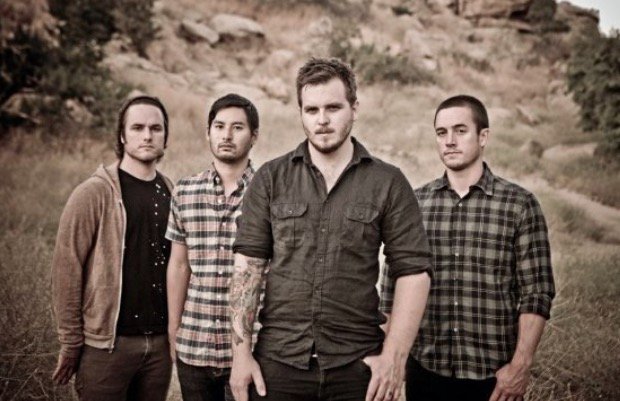 The band has shared the new song after having signed to Epitaph Records
June 5, 2080
Thrice have just inked with Epitaph Records and premiered a new track – a melodic, back-to-basic song 'The Grey.' The song is an emotional, life-analysing track with powerful lyrics as singer Dustin Kensrue reveals he's "have had enough of black and white" and is ready to accept the doubt and unpredictability of the world.
Be sure to watch the lyric video for 'The Grey' below:
Watch: Thrice put our unusual music video for 'Black Honey'
Epitaph Records already has such well-known bands under its feather as Bad Religion, A Day To Remember and more. "To finally be a part of the family there is an absolute honor, and we couldn't be more excited about our future with them," Thrice say in a statement, welcoming their work with the new label.
This fall we can see the band live, as they are headlining a tour with the Bronx and Teenage Wrist. Tickets sale kicks off Friday, June 8. Go here to get your ticket.
Do you like what we're doing? If so, help us grow by sharing the article – this way we can keep providing you latest news and fun interviews with your favorite bands! Stay tuned with AlteRock Facebook and Twitter to never miss on the news about your favorite alternative music!
Thrice Fall 2018 Tour:
09/21 — San Diego, CA @ House of Blues
09/22 — Tempe, AZ @ Marquee Theatre
09/24 — Austin, TX @ Emo's
09/25 — Houston, TX @ House of Blues
09/27 — Fort Lauderdale, FL @ Revolution Live
09/28 — Orlando, FL @ House of Blues
09/29 — Atlanta, GA @ The Buckhead Theatre
09/30 — Charleston, SC @ The Music Farm
10/02 — Raleigh, NC @ The Ritz
10/03 — Richmond, VA @ The National
10/04 — Silver Spring, MD @ The Fillmore
10/06 — Philadelphia, PA @ Electric Factory
10/07 — Boston, MA @ House of Blues
10/09 — Detroit, MI @ St. Andrew's Hall
10/10 — Cleveland, OH @ House of Blues
10/12 — Chicago, IL @ House of Blues
10/13 — St. Louis, MO @ The Pageant
10/14 — Nashville, TN @ Marathon Music Works
11/02 — San Francisco, CA @ The Regency Ballroom
11/03 — Portland, OR @ Roseland Theater
11/04 — Seattle, WA @ Showbox SoDo
11/06 — Salt Lake City, UT @ The Complex
11/07 — Denver, CO @ TBD
11/09 — Milwaukee, WI @ The Rave
11/10 — Cincinnati, OH @ Bogart's
11/11 — Lawrence, KS @ The Granda
11/13 — Dallas, TX @ House of Blues
11/14 — Albuquerque, NM @ El Rey Theater
11/16 — Las Vegas, NV @ House of Blues
11/17 — Anaheim, CA @ House of Blues
11/18 — Los Angeles, CA @ The Wiltern