Turnstile delivered a performance of 'MYSTERY', plus three more songs for an off-air livestream
Tonight Baltimore hardcore punk band Turnstile has appeared live on Jimmy Kimmel Live!. They took the prestigious TV stage to perform their track 'MYSTERY' during the live broadcast. Apart from the on-air stream, Turnstile also performed 'BLACKOUT', 'DON'T PLAY' and 'HOLIDAY' in a separate off-air livestream.
More: Listen to SIMPLE PLAN and SUM 41 singer Deryck Whibley's collab 'Ruin My Life'
All four tracks are featured on the band's third album GLOW ON, released on August 27, 2021. See both their live-broadcast and off-air performances below:
Quiet at first, the the live performance of 'MYSTERY' then explodes with an intense chorus, seeing vocalist Brendan Yates jump around and have enjoy their signature punk atmosphere on stage.
The band's recently-started North American tour, titled TURNSTILE LOVE CONNECTION TOUR, featuring Citizen, Ceremony, Ekulu and Truth Cult, has already sold out. Turnstile are also booked for massive spring/summer festivals, such as Coachella (April 16 and 23) in Indio, California and Pinkpop (June 19) in The Netherlands, so be sure to catch the guys live this year.
Do you want quality music news and interviews? Be sure to join us on AlteRock Facebook and AlteRock Twitter!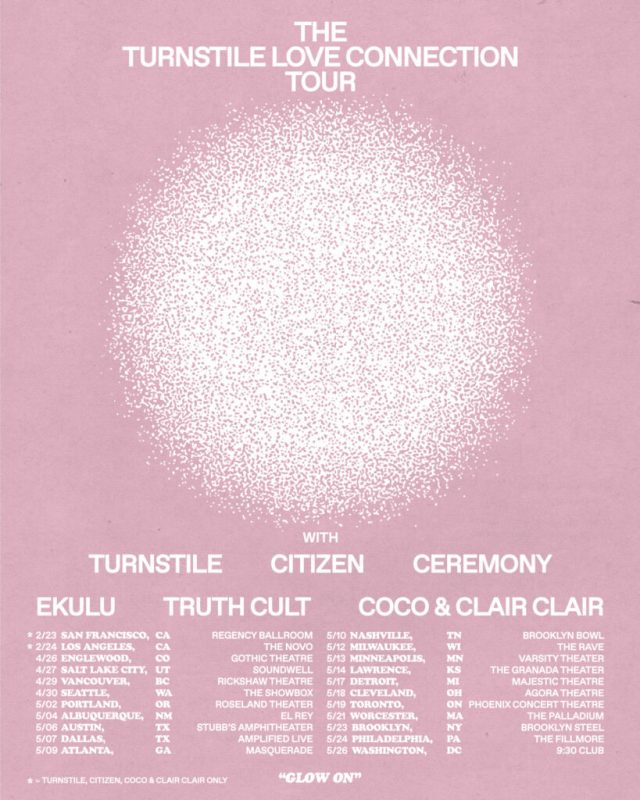 More: PAPA ROACH talk "feeling of wanting to give up when you're backed against the wall" in new single 'Stand Up'