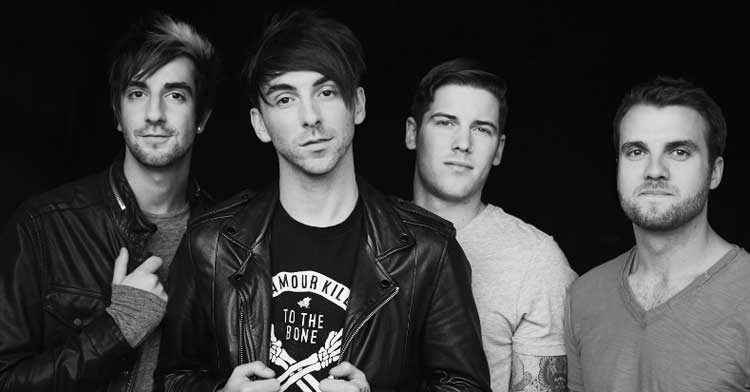 All Time Low are discussing the possibility of a special anniversary tour to mark 10 years since their Put Up Or Shut Up release
January 21, 2016
Baltimore pop-punk band All Time Low might be hitting the road soon to celebrate the 10th anniversary of their highly successful EP Put Up Or Shut Up. The group's guitarist Jack Barakat told MTV UK: "It's something that we've kind of discussed, but we haven't confirmed anything. We did one show at the end of last year and we played Put Up Or Shut Up in full. It was just a cool experiment to see how it would do and it was probably the most fun show I've had in a really long time. I think it's a very strong possibility." (via Altpress)
The band is currently is Japan for a row of headline shows within The Back To The Future Hearts tour, supporting their sixth album Future Hearts. From the Far East the guys will fly to Europe for five UK and Ireland tour dates with Good Charlotte this February.
A couple of weeks ago, All Time Low vocalist Alex Gaskarth also posted a tweet revealing the band's intention to start working on new material: "Good things on the way! Bout to get lost in the desert for a bit and work on some tunes." The news was strengthened by Rian Dawson's photo of himself in the studio with a comment, "About to track some damn banjo here at Studio 31 West!"
Do you think All Time Low should make this anniversary tour possibility a reality? Leave us your comments below and stay tuned with Alterock Facebook and Twitter to never miss on the news about your favorite alternative music!
Read more: ALL TIME LOW Win Best Live Act At AIM (click here)
[schema type="review" url="http://alterock.net/all-time-low-10-year-anniversary/" name="ALL TIME LOW Discuss Put Up Or Shut Up 10th Anniversary Tour" description="All Time Low are discussing the possibility of a special anniversary tour to mark 10 years since their Put Up Or Shut Up release" rev_body="Baltimore pop-punk band All Time Low might be hitting the road soon to celebrate the 10th anniversary of their highly successful EP Put Up Or Shut Up. " author="Tatiana Vinichenko" pubdate="2016-02-04″ user_review="5″ min_review="1″ max_review="5″ ]