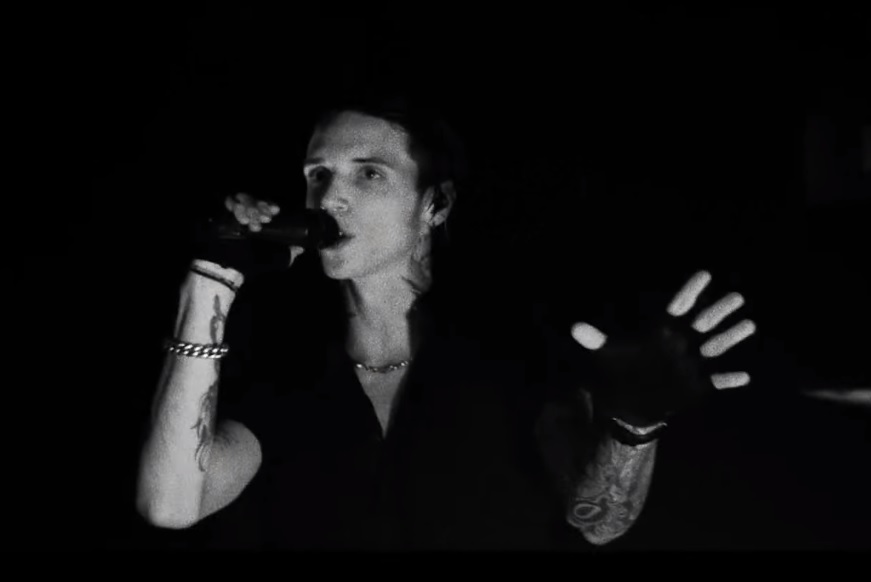 The singer goes philosophical in the trailer, says fans' support has been like therapy for him
January 12, 2017
As the date of Andy Black's tour documentary release is nearing, the singer has unveiled a philosophical trailer, which you can see below.
Check out: Gerard Way is in the studio with Andy Biersack
The Black Veil Brides frontman, Andy Black (Biersack) had dropped his debut album, The Shadow Side, on May 18, 2016 and had been collecting live footage throughout the year to put a full-fledged tour documentary together.
The trailer not only shows Biersack hanging around backstage before the show, preparing to come out to the audience, but also sees the singer open up about reacting to praise and critique, finding therapy in fans' support and as well as about feeling lonely once the show is over:
[quote align="center" color="#COLOR_CODE"]"I've never been able to be alone in my life without starting to think of too many things. You go out, you kind of let out your demons and your feelings", the singer confesses. "And you get to have all this adoration from people and you get to experience something with a large group of people, and then, after that you go back to the dressing room and that's over, and you're just kind of lonely and you miss home".[/quote]
More: ANDY BIERSACK Announces His Own Talk Show, The Andy Show, Posts Teaser
Andy BLACK: Homecoming Tour will be out next week in web format. Meanwhile, you can check out Black's live dates below and make sure you still catch him on the last, North American part of his Homecoming Tour this February and March.
Share your thoughts on the trailer in the comments below, and join AlteRock Facebook and Twitter to stay tuned for rock and metal news.
As to Biersack's work with BVB guys, the band have recently introduced their newest single, 'The Outsider,' and are planning to release their new album later this year.
The full length "Andy BLACK: Homecoming Tour" documentary will be released online next week! In the meantime checkout the trailer below️ pic.twitter.com/YGInFBXmq8

— Andy Biersack (@andyblack) January 11, 2017
Andy Black North American Tour Dates 2017:
2/8: Lancaster, PA @ Chameleon Club
2/10: Patchogue, NY @ 89 North Music Venue
2/11: Clifton Park, NY @ Upstate Concert Hall
2/12: Portland, ME @ Port City Music Hall
2/14: Montreal, QC @ Corona Theatre
2/15: Toronto, ON @ Opera House
2/17: Cincinnati, OH @ Bogarts
2/18: St. Louis, MO @ Delmar Hall
2/19: Milwaukee, WI @ The Rave
2/21: Palatine, IL @ Durty Nellie's
2/24: Saskatoon, SK @ Saskatoon Event Centre
2/25: Calgary, AB @ MacEwan Ballroom
2/26: Edmonton, AB @ Starlite Room
2/28: Vancouver, BC @ Rickshaw Theater
3/1: Spokane, WA @ Knitting Factory
3/3: Pomona, CA @ Glasshouse