Chester Bennington and Mark Morton are supposedly writing a song together – see their Twitter selfie
April 13, 2017
Take a look at the selfie Linkin Park's singer Chester Bennington and Lamb of God's guitarist Mark Morton have taken in the studio together. Why do you think they hit the studio together? Are they working on new music?
More: Check out Linkin Park signing a car in Mercedes Me store, having fun in Beijing
It looks so. Theprp.com suggests that the two musicians are working on a new song with producer Josh Wilbur (Lamb Of God, Gojira). Besides, Bennington has recently shared a sneak peek of the lyrics to a new song in progress on his Instagram page, and now Morton has posted his selfie with Linkin Park's vocalist on Twitter. His comment reads: "Sounds killer too!"
Linkin Park's seventh studio effort, titled One More Light, will see the light on May 19, and so far we've had a chance to taste its first single, 'Heavy'. If you've missed the music video for 'Heavy', check it out below.
One More Light is Linkin Park's first record in three years, since 2014's album The Hunting Party. The album is now available for pre-orders, which include a limited edition set for LP fans.
More: Linkin Park talk One More Light album: "We got out of our comfort zone"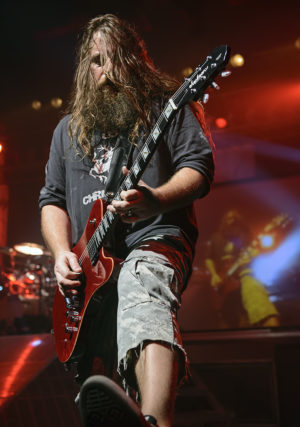 Do you know more about the two musician's collaboration plans? And what do you think the resulting track will sound like? Be the first to leave your comments and stay tuned with AlteRock Facebook and Twitter to never miss on the news about your favorite alternative music!
Sounds KILLER too! ? pic.twitter.com/YbbYgB0BFy

— Mark Morton (@MarkDuaneMorton) April 12, 2017