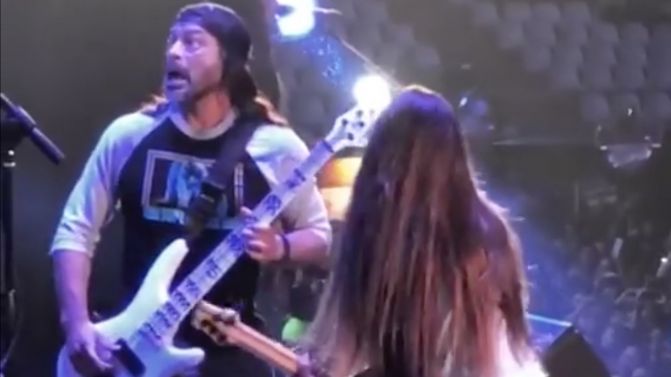 Korn drummer has posted video footage of the family performance on Facebook
May 2, 2017
As you probably know by now, Korn bassist Fieldy is temporarily replaced on stage by the 12-year-old bassist Tye Trujillo, the son of Metallica's Robert Trujillo. But what you might not have known is that Metallica's musician is also accompanying his son on Korn's tour in South America. And for the first time Trujillo, the father, joined Korn on stage.
Watch: Korn And Slipknot's Corey Taylor perform 'A Different World' live
Father and son Trujillo delivered a dual-bass performance of Korn's song 'Blind' at the Vivo X El Rock festival in Lima, Peru, this past Saturday (April 29), reports NME. Drummer Ray Luzier has now posted videos of the family performance with Korn on Facebook. Be sure to check out this precious footage below.
As for the band's own bassist, Fieldy, he will presumably join mates from Korn again for the upcoming U.S. festival dates. But let's see if the band manages to stick to the original plan, as recently they had to cancel some shows due to "unforeseen circumstances."
Watch Robert Trujillo and his young son nail Korn's 'Blind' below and let us know what you think.
More: President Obama "sings" Korn's 'Freak On A Leash' – watch
Share your thoughts in the comments, and join AlteRock Facebook and Twitter to stay tuned for rock and metal news.
Just too F'n cool.. as a proud Dad myself, I had mass chills watching them! @robtrujillo @tyetru @brianheadwelch @munky_korn @korn_official @metallica #fatherandson #familyiseverything #bigrockshow #musicislife #korntour2017 #korn #lima #peru 🎥by @abelvallejo #metallica

Geplaatst door Ray Luzier op Zondag 30 april 2017
What a rad moment! Father & son jamming together with us last night! 🎥by @abelvallejo @robtrujillo @tyetru @munky_korn @brianheadwelch @korn_official @metallica #korntour2017 #korn #metallica #bigrockshow #familyiseverything #fatherandson #lima #peru #blind

Geplaatst door Ray Luzier op Zondag 30 april 2017