Here are 20 interesting facts about Andy Biersack, a.k.a. Andy Black, the lead vocalist for Black Veil Brides
Which of these didn't you know? Which shocked you most? We can't wait to see your comments below!
1. Andy Biersack grew up in Roman Catholic family but it didn't make him a religious person.
2. You know Andy as a black-haired guy, so it came as no surprise when he chose a moniker Andy Black for his solo path. But his natural hair color is actually blond!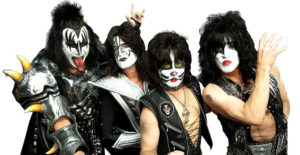 3. The first CD he ever bought was a live hits album by Kiss. Maybe that's where his love of the black color originates in…
4. At school Andy was bullied a lot because of the his style of clothing and music tastes. His idols were KISS and Motley Crue, so we hope he didn't paint his face like his idols before school…
5. Until the age of 13 Andy was overweight. Right now it's hard to imagine, isn't it?
6. The BVB singer has attention-deficit hyperactivity disorder (ADHD), which implies problems paying attention, excessive activity and usually results in poor school performance. He's not the only rock musician with ADHD, though. Adam Levine, Steven Tyler and Ozzy Osbourne had the same problem.
7. Andy attended an arts school. Namely, Cincinnati's School for Creative and Performing Arts.
8. Biersack had seriously considered becoming an actor before music «stole» him completely. Just two days after he turned 18, he left for L.A to do some acting.
9. Andy appeared in two commercials: the at&t and Montana Meth. Do you find it hard to believe? Check out the horrifying Montana Meth Ad below:
10. Can you imagine Andy in Hannah Montana? He could've been playing a guest role there but turned the Disney's offer down.
11. His stage name used to be Andy Six (=Andy Sixx) but in 2011 he decided he'd prefer to be known by his birth name, Andrew "Andy" Dennis Biersack. Do you think Andy Six moniker suits him more than Andy Black?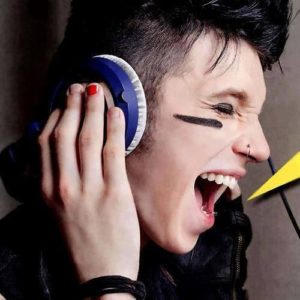 12. Some have lucky charms for hope and strength. Andy paints his right ring finger nail red instead!
13. When Biersack founded Black Veil Brides, he was only 14! The group played one gig as "Biersack" before they chose their current band name.
14. Andy got his first tattoo at the age of 16. And many more since then.
15. He was a guest star on his cousin Joe's web series Average Joe. Check it the episode «Dumped» ft. Biersack below:
16. Andy goes wild at his live shows. As a result, he's had quite a few stage injuries, including a broken nose, three shattered ribs and one displaced rib. The latter happened when he fell down from a 9-meter pillar trying to jump back onto the stage.
17. Biersack is a huge Batman fan. He has Batman action figures and merchandise all over his studio.
18. The Black Veil Brides frontman says the word he uses too often is «nebulous«.
19. Andy has seen all seasons of The Real Housewives of Beverly Hills. Why? Because his wife Juliet Simms is a huge fan of it!
20. The singer likes to joke that he won't live to see 40 because of his chain smoking. Let's hope he can do better than 40!
Don't miss the latest news about your favorite bands with AlteRock website and join AlteRock Facebook and Twitter to stay tuned for rock and metal news.
More: Andy Biersack moves house after fan harassment: «It is simply not acceptable»