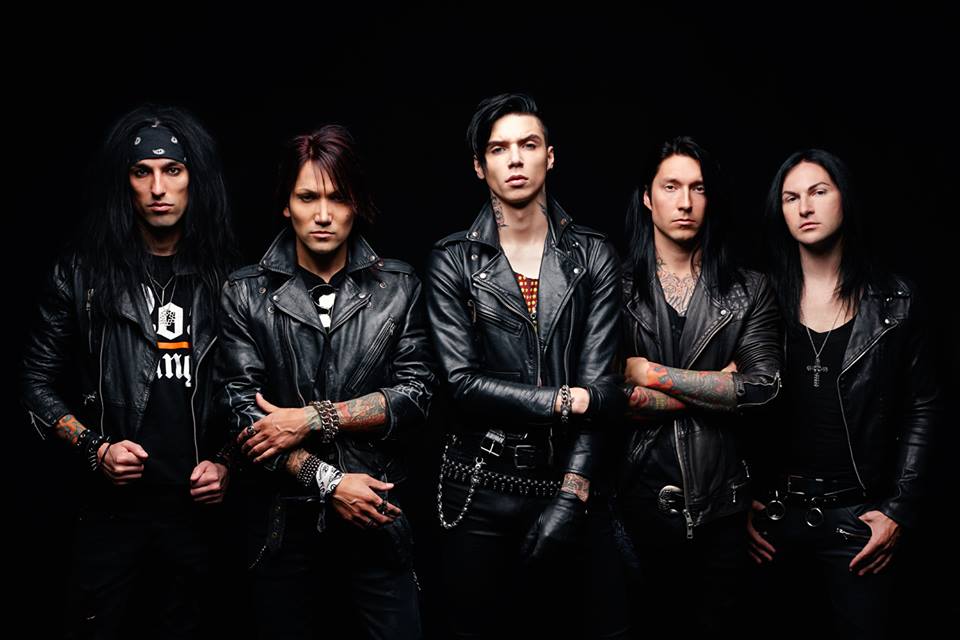 The band says frontman Andy Biersack «sounds the best he's ever sounded" on the new record
May 16, 2017
Black Veil Brides have unvealed a bit more information about their upcoming album. We heard earlier that it was completed in April but the release time hadn't been announced. Now we've got at least a month of the record release.
This past Sunday on the red carpet of the Sweet Relief Musicians Fund benefit event, Jake Pitts and Jinxx told Front Row Live that it's most likely to be a September 2017 release:
[quote align=»center» color=»#COLOR_CODE»]«It should be out September,» says Pitts.»We don't have an exact, locked-in date, but… it should be middle, end of September.»[/quote]
Pitts and Jinxx also mentioned that their frontman, Andy Biersack, has done his best vocally on the new record and expanded his vocal range a lot:
[quote align=»center» color=»#COLOR_CODE»]«I can tell you one thing for sure,» Pitts says, «He sounds the best he's ever sounded on this album. He's always sounded great, but to me, it's obvious that… he's really been working. His vocal range is expanded; his voice sounds the best it's ever sounded.»[/quote]
More: ANDY BLACK talks praise, loneliness and fans' role in his life in trailer for tour documentary
When asked about how the recording process went for the new album, Pitts said that the band and album producer John Feldmann «gelled really well together»:
«We're pretty used to being in the studio. Jinxx and I have our own studio. That's what we live for. If we're not touring, we're always in the studio. We'd done a record with John Feldmann previously, so this time, going in with him, we have a relationship with him, we know how everything works. It was really, really painless and we just gelled really well together and made the album.»
The influence for the songs on the new record was the guitarists' favorite bands growing up, their favorite albums, writes Blabbermouth. «And that's what we did,» tells Jinxx. «And me and him [Jake] sat down and we just wrote riffs based on that. Basically, what we enjoyed, what influenced us growing up, what made us wanna pick up a guitar and play, and that's what we put into this album.
In the summer, on July 17, Biersack by tradition will be the host of the APMAs, Alternative Press Music Awards, taking place in Cleveland, OH.
In case you haven't heard BVB's latest song called 'The Outsider', which dropped last December, be sure to give it a listen below, along with Pitts and Jinxx talking about the upcoming album. Be the first to leave your comments and stay tuned with AlteRock Facebook and Twitter to never miss on the news about your favorite alternative music!
Watch: BLACK VEIL BRIDES guitarist perform 'Wretched and Divine' on EMGtv