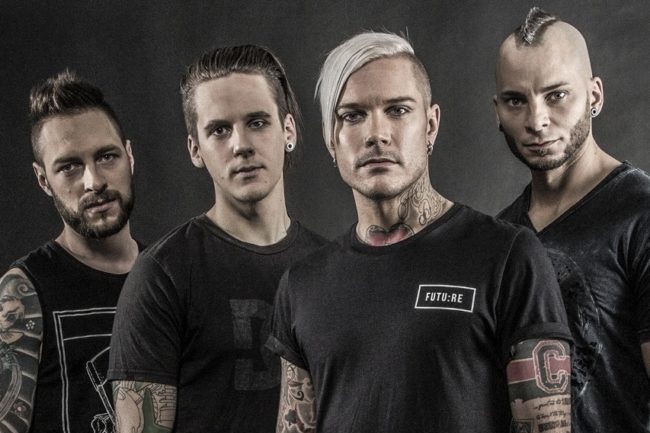 Swedish metallers say they aren't afraid of tomorrow in their new single, 'Warrior'
March 3, 2017
Today Swedish modern-metal band Dead By April has unleashed a new single, 'Warrior', which is featured on their upcoming studio album, Worlds Collide, coming out next month. Give it a listen right now on Spotify:
Judging by the new single, 'Warrior', the forthcoming record seems to pick up where the previous one left off. The electronic parts of the track certainly take after the track 'As a Butterfly' from the album Let The World Now, but the new single takes a much softer and cleaner approach. However, lyrically the song is as self-confident and life-asserting as it can be:
What doesn't kill you makes you stronger.
I can feel the blades cutting in my skin.
But there's a will within.
I'm looking it straight in the eye
There's nothing to fear.
I am brave like a warrior.
Last month, when the Swedish metallers announced the record, they intrigued their fans by adding, «don't worry, you will hear (and see) more stuff from us before April 7!» And from their latest Facebook teaser for 'Warrior', it's easy to predict there's a music video for the song to be unveiled soon. Check out their teaser video below.
More: Listen to FALLING IN REVERSE's new track 'Loser' from upcoming album, Coming Home
Dead By April have also recently shared the lyric video for 'My Heart Is Crushable', taken from the upcoming album, Worlds Collide. The record is out April 7, with pre-orders available now. The album will be available on CD and digitally, as well as on vinyl.
What do you think of 'Warrior'? Be the first to leave your comments and stay tuned with AlteRock Facebook and Twitter to never miss on the news about your favorite alternative music!
[fbvideo link=»https://www.facebook.com/deadbyapril/videos/10155142239182962/» width=»500″ height=»400″ onlyvideo=»1″]