New York punk rockers launch a happy happy mix of Halloween and Harley Quinn
Black cats
Witches hat
Children in the streets with baseball bats…
Brooklyn punk rockers Surfbort are setting the Halloween mood just in time with their fun new track 'Happy Happy Halloween'. The track comes with a mad-party style music video, directed by Linda Perry, who also worked with the band on their latest album, Keep On Truckin'.
Essentially a trivial performance video turns way more Halloween-themed with dancing skeletons and masked rockers having fun on a cemetery.
More: ICE NINE KILLS share dramatic video inspired by Stephen King's novel-based Pet Sematary movie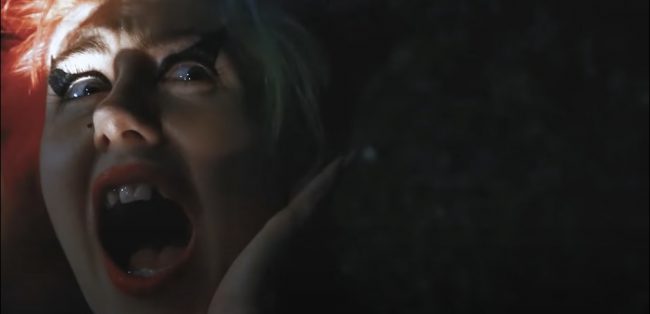 The song mentions all kinds of Halloween characters and all kinds of gothic rock legends such as Christian Death, Bauhaus and Siouxsie And The Banshees. In fact, the vocalist, chaotically jumping around, Dani Miller, reminds a lot of Siouxsie Sioux herself. And of course, of Harley Quinn, with her multicoloured hair and heavy eyeliner.
In an interview with Alternative Press, the lead singer explains that her extravagant looks and devil-may-care moves on stage are aimed at helping people be themselves and feel good:
"The reason I do this makeup and scream into the moon onstage is to inspire other people to feel free to do whatever they want, whatever makes them feel comfortable," says Miller.
Check out the 'Happy Happy Halloween' music video below:
Surfbort got a boost in popularity when they were featured in Gucci's pre-fall campaign. The cast of the music video included models, surfers, bodybuilders, Barcelona punks and musicians at the background of the ruins of Sicily's Selinunte Archaeological Park. "It was mind-blowing," remembers Dani Miller. "I thought I was on acid, on a cloud in a crazy dream."
Give the Gucci commerical in question another glimpse:
Watch: WILLOW and AVRIL LAVIGNE release collab 'G L O W', featuring Travis Barker
To see the electrifying shows by Surfbort, take a look at their tour list for October-December. Sing along with the lyrics of their new song and… have a happy happy Halloween!
Surfbort Upcoming Tour Dates:
10/21 – Los Angeles, CA @ Regent Theater
10/23 – Tucson, AZ @ 191 Toole
10/25 – Dallas, TX @ Sundown at Granada
11/04 – Santa Ana, CA @ Observatory
11/05 – San Luis Obispo, CA @ Fremont Theater
11/07 – San Francisco, CA @ Great American Music Hall
11/10 – Downtown Seattle, WA @ The Crocodile
11/11 – Boise, ID @ The Shredder
11/12 – Salt Lake City, UT @ The loading dock concert venue
11/14 – Denver, CO @ Marquis Theater
11/15 – Fort Collins, CO @ The Coast
12/02 – Philadelphia, PA @ Underground Arts
12/04 – Washington, DC @ DC9
12/05 – Ridgewood, NY @ TV Eye
12/06 – New York, NY @ Mercury Lounge
'Happy Happy Halloween' Lyrics:
Black cats
Witches hat
Children in the streets with baseball bats
1, 2, I'm coming for you
3, 4, filled with gore
5, 6, gonna make you sick
7, 8, burned you at the stake
999, Satan's on my side
10, 11, no one's going to heaven
H-E-L-L HALLOWEEN
HAPPY HAPPY HALLOWEEN
H-E-L-L HALLOWEEN
HAPPY HAPPY HALLOWEEN
Beetlejuice
Frankenstein
Pixy Stix with cyanide
Ghouls and ghosts
All night long
I think I just saw dead Santa Claus
Pumpkins and pig skins
Goths run around
With skeletons
Pumpkins and pig skins
Goths run around
With skeletons
H-E-L-L HALLOWEEN
HAPPY HAPPY HALLOWEEN
I wanna listen
Siouxsie And The Banshees
Sisters Of Mercy
Bauhaus and Christian Death
I'm just about to lose
My breath