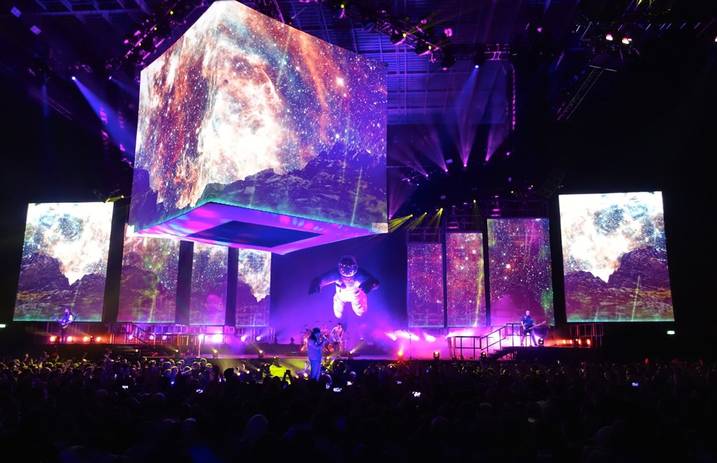 The band have also premiered new songs from The Stage at Dublin show
January 9, 2017
As we informed you a month ago, Avenged Sevenfold joined forces with the mindblowingly spectacular Cirque du Soleil to turn the stage production for their tour into a work of art. The band had named their new album, The Stage, for a reason, and this weekend the group presented their theatrical stage production live for the first time.
The first fans who were lucky to experience the result of this extraordinary collaboration were those who came to see the band live on January 7 in Dublin. In addition to the theatrics and A7X's all-time hits, the audience also heard the band's new songs from The Stage first time live. The outfit debuted 'Paradigm,' 'Angels,' 'God Damn' and 'Sunny Disposition' during their Dublin show. Check out the live footage of 'Paradigm' from different angles below.
More: AVENGED SEVENFOLD Release New Video 'The Stage', Launch Talking Deathbot
Mirroring the lyrical concept of the new album, the stage production revolves around the notions of artificial intelligence and human urge to know why we are here:
"We wanted to write about artificial intelligence, not really in a sci-fi way, not in a Terminator sort of way, but in more in, like, a scientific way," frontman M. Shadows explains. "We have this yearning to know the answers to the big questions about space and why we're here; we can't evolve fast enough to figure these answers out on our own, but we can do it through artificial intelligence. But there's also some very scary downsides that could come if we don't put the right safety precautions in there."
Watch: Avenged Sevenfold unveil behind-the-scenes video footage from studio sessions for 'Sunny Disposition'
Such a massive AI-themed stage production might imply major stage changes at different tour locations. The musicians are thinking about altering some venues altogether to ensure the best possible stage production and theatrical experience for the concert-goers. Moreover, instead of one long tour, Avenged Sevenfold have decided to go on two-week tour cycles and have a break for two weeks in between.
"This is gonna be drawn out into different types of touring, we're not going on tour for six months, it'll be two weeks on, two weeks off. It'll be a longer cycle but we're gonna roll with the punches. I don't ever feel like we fit in. We're going to be whatever we feel is right, and if it changes the industry, then great," Shadows told Metal Hammer.
The band's tour in support of The Stage album has just begun with the show in Dublin and will stretch into March 10, wrapping up with a gig in Oslo, Norway. Shadows and co. are touring with Disturbed and In Flames through Europe and the UK. See which location is near to you in the full tour schedule below.
Be sure to check out more footage of AX7's live debut with Cirque du Soleil below. Leave us your comments and stay tuned with Alterock Facebook and Twitter to never miss out on the news about your favorite alternative music!
Avenged Sevenfold UK/European 2017 tour dates:
Jan 10: Glasgow SSE Hydro, UK
Jan 12: Newcastle Metro Radio Arena, UK
Jan 13: Birmingham Genting Arena, UK
Jan 15: Sheffield Arena, UK
Jan 16: Manchester Arena, UK
Jan 18: Nottingham Motorpoint Arena, UK
Jan 19: Cardiff Motorpoint Arena, UK
Jan 21: London O2 Arena, UK
Jan 22: London O2 Arena, UK
Feb 12: Frankfurt Festhalle, Germany
Feb 13: Hamburg Sporthalle, Germany
Feb 15: Berlin Arena, Germany
Feb 16: Dusseldorf Mitsubishi Electric Halle, Germany
Feb 18: Amsterdam Ziggo Dome, Netherlands
Feb 20: Stuttgart Schleyerhalle, Germany
Feb 21: Milan Forum, Italy
Feb 23: Vienna Wiener Stadthalle, Austria
Feb 25: Munich Zenith, Germany
Feb 26: Zurich Halle 622, Austria
Feb 28: Lille Zenith Arena, France
Mar 01: Luxembourg Rockhal, Luxembourg
Mar 02: Paris AccorHotels Arena, France
Mar 04: Copenhagen Valby Hallen, Denmark
Mar 07: Helsinki Hartwall Arena, Finland
Mar 09: Stockholm Ericsson Globe, Sweden
Mar 10: Oslo Telenor, Norway