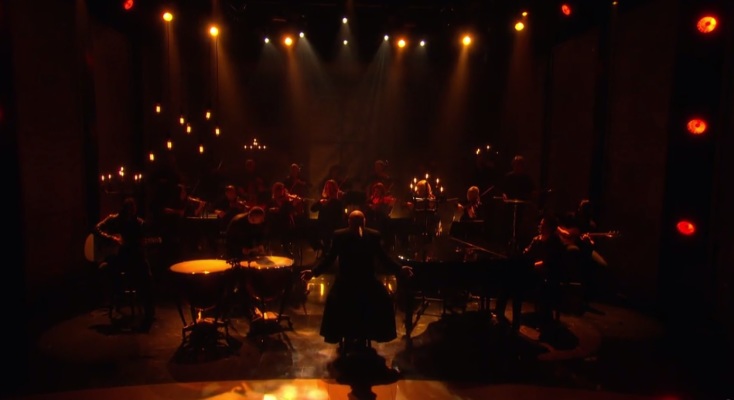 Disturbed have delivered an impressive performance of 'The Sound of Silence' on Conan talk show
March 29, 2016
Since Disturbed released their solid, heartfelt cover of Simon and Garfunkel's 'The Sound of Silence', they have been topping the rock charts and have been invited to a number of TV shows for a live performance of the song. On March 28, Disturbed were guests on late night talk show, Conan, to perform 'The Sound of Silence', accompanied by a full 15-piece orchestra.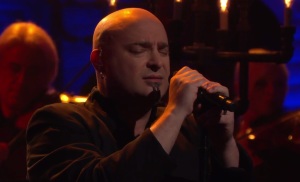 In the video below you will see David Draiman put his heart and soul into the performance, delivering deep and emotional vocals, while the orchestra's musical palette adds a theatrical atmosphere and certain grandeur to the song. "It's one of those songs that is so huge and so classic that many would argue that it is untouchable," Draiman told Loudwire. "I was very intrigued and very excited about it, but also it was very daunting and I had a bit of hesitation."
Disturbed frontman admits he is grateful to his bandmates for convincing him to turn off the band's signiture metal route and record 'Sound of Silence' as we can hear it right now. He said: "I thank you guys for pushing me in this direction, I wouldn't have normally gone there. Personally, I hadn't heard my voice like that since I was a young man, since I was a teenager" (via Loudwire).
More: Muse, Linkin Park, Disturbed, Gerard Way to Drop Special Releases for Record Store Day
'The Sound of Silence' is featured on the band's latest album, Immortalized, which confidently debuted at No. 1 on the Billboard 200.
Disturbed are finishing off their tour with the last show on April 10 and will play a few festivals afterwards. The band won't rest on the laurels long though. At the beginning of May, they will hit the road again, this time for a co-headlining tour with a legendary rocker, Rob Zombie. In June, Disturbed will cross the ocean for a bunch of summer festivals, including Germany's legendary Rock am Ring (Jun 3), UK's renowned Download Festival (Jun 12), Belgium's Graspop Festival (Jun 17) and France's Hellfest (Jun 18).
Be sure to watch the video of 'The Sound of Silence' on Conan talk show below. What do you think of the performance? Share your thoughts in the comments, and join Alterock Facebook and Twitter to stay tuned for rock and metal news.
More: Watch DISTURBED Perform 'Sound of Silence' for the First Time