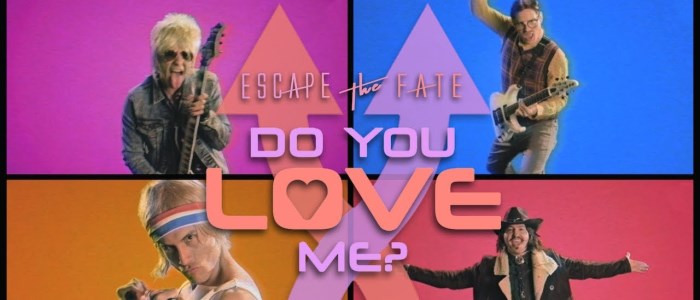 Craig Mabbit playing a macho type cowboy and yoddling the TV host to death… just a tip of the iceberg…
February 15, 2019
Last week's teasing is over as Escape The Fate share their new, hilarious music video for 'Do You Love Me?' If you fell in love with the song, you can find it on the band's latest record, I Am Human.
The new video creation directed by Robyn August is ridiculing dating shows but in the most entertaining way. The music video starts with a long intro as the show host, Robert, is introducing four hopefuls: a bit full of himself rocker Ritchie Valentine, a less convincing mathematics genius Walter Wayfeather, a "muscle delight" Bob Bailer and, finally, a plain hardworking cowboy Cody Darkwood (Craig Mabbit).
They are all demonstrating their talents (like Mabbit's yoddling) to win the heart of lovely, yet masculine looking (and sounding) Destiny. Guess who plays the part of Destiny?.. Check out this must-see video right now:
"We had a lot of fun shooting this one and we hope you laugh as much watching it as we did making it", says the frontman. "oh yeah – and bang your fuckin' head to the track and grab 'I Am Human' while you're at it."
Escape The Fate are currently wrapping up their UK and European tour in honor of the 10th anniversary of their album This War Is Ours. The anniversary tour's last show will be held at London's Electric Ballroom, Feb 20.
I Am Human was produced by Grammy Award-nominated Howard Benson, who previously worked with My Chemical Romance and Adam Lambert, for one.
Escape The Fate are jumping onto a new US tour with Attila this spring. Be sure to check out the list of dates and venues below.
Escape The Fate Spring 2019 Tour Dates:
02/28 – Reading, PA @ Reverb
03/01 – Halethorpe, MD @ Fish Head Cantina
03/02 – Worcester, MA @ The Palladium
03/03 – Hartford, CT @ The Webster
03/05 – Clifton Park, NY @ Upstate Concert Hall
03/06 – Syracuse, NY @ Westcott Theater
03/08 – Indianapolis, IN @ The Citadel
03/09 – Ringle, WI @ Q and Z Expo Center
03/10 – Belvidere, IL @ The Apollo Theatre
03/12 – Minneapolis, MN @ Cabooze
03/13 – Milwaukee, WI @ The Rave
03/14 – Des Moines, IA @ Wooly's
03/15 – St. Louis, MO @ Delmar Hall
03/16 – Sioux City, IA @ Anthem @ Hard Rock Hotel*
03/17 – Lincoln, NE @ Bourbon Theatre
03/18 – Denver, CO @ The Oriental Theater
03/20 – Salt Lake City, UT @ The Depot
03/21 – Billings, MT @ Pub Station Ballroom
03/22 – Spokane, WA @ Knitting Factory
03/23 – Boise, ID @ Revolution Music Hall
03/24 – Portland, OR @ Crystal Ballroom
03/26 – Sacramento, CA @ Ace Of Spades
03/27 – Santa Ana, CA @ The Observatory
03/28 – Ventura, CA @ Ventura Theater
03/29 – Mesa, AZ @ Club Red
03/30 – Albuquerque, NM @ El Rey
04/01 – Austin, TX @ Come and Take It Live
04/02 – Dallas, TX @ Gas Monkey
04/03 – Oklahoma City, OK @ Diamond Ballroom
04/05 – Lafayette, LA @ The District
04/06 – Destin, FL @ Club L.A.
04/07 – Orlando, FL @ Hard Rock Live**
*- ATR only
** – no Attila
In case you've missed 'I Am Human' music video:
And another one off of the same record, 'Broken Heart':
Are you still not subscribed to AlteRock news? How come?! Be sure to join Alterock Facebook and Twitter to stay tuned for rock and metal news!