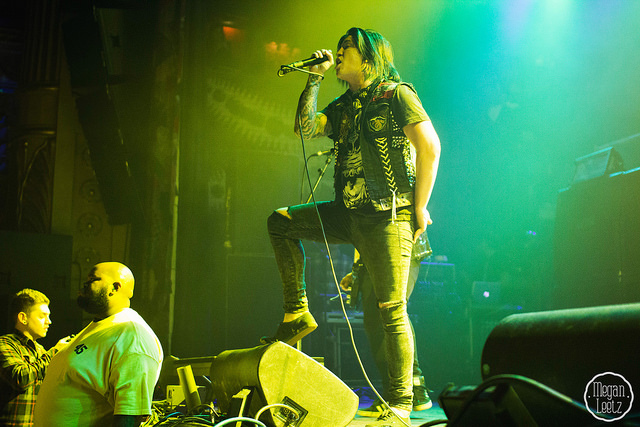 In the States the band will be joined by Nonpoint for a co-headlining tour of 21 cities
August 12, 2016
Escape The Fate's fall schedule is packed to the brim. Today, they have announced their 2016 global tour, including dates in Mexico, New Zealand, Australia, Thailand, and the States.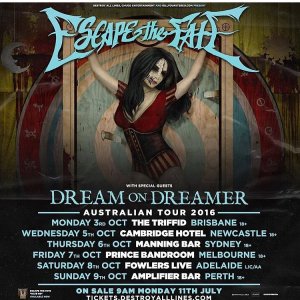 First off, the band will head to Mexico for three consecutive shows on September 23-25. From there, on the first day of October, the group will fly all the way to Auckland, New Zealand for one show only, followed by six dates in Australia (October 3-9). And before they head back to the US, Escape The Fate will take it to Thailand, where they'll rock Bangkok on October 11.
More: Watch ESCAPE THE FATE's Acoustic Cover of Justin Bieber's 'Love Yourself'
Once the outfit returns to the States, they'll pause for breath and prepare for their massive US co-headlining tour with Nonpoint. The Hate Poison tour will also feature Get Scared, Failure Anthem and Through Fire as support acts.
Why is the tour named Hate Poison? Easy! Escape the Fate will keep promoting their 2015 record, Hate Me, while Nonpoint are presenting The Poison Red album live – when combined, the names form "Hate Poison."
Tweet of the Day: CRAIG MABBIT Makes Snack Bags for ASH COSTELLO
The tour will kick off November 10 in Denver, CO and run for over three weeks. Escape the Fate's frontman Craig Mabbitt seems to never get tired of the touring life: "I'm excited to get back on the road and play some more Hate Me for the Escape The Fate fans and showcase ourselves to some new faces," he shared. "It's going be a diverse show, that's for sure! Old school-new school meets new school-old school and it's going be one hell of a time."
Tickets are already on sale. You can get a closer look at the band's itinerary below. Share your thoughts in the comments, and join Alterock Facebook and Twitter to stay tuned for rock and metal news.
Escape The Fate 2016 Global Tour Dates: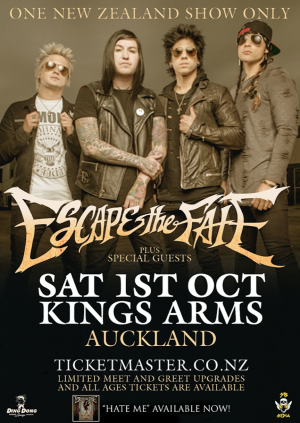 MEXICO
September 23 @ C3 Stage (GDL)
September 24 @ Cafe Iguana (MTY)
September 25 @ Sala Corona (CDMX)
NEW ZEALAND
October 1 @ Kings Arms, Auckland
AUSTRALIA
October 3 @ The Triffid, Brisbane
October 5 @ Cambridge Hotel, Newcastle
October 6 @ Manning Bar, Sydney
October 7 @ Prince Bandroom, Melbourne
October 8 @ Fowlers Live, Adelaide
October 9 @ Amplifier Bar, Perth
THAILAND
Tuesday, October 11th @ Hollywood Awards, Bangkok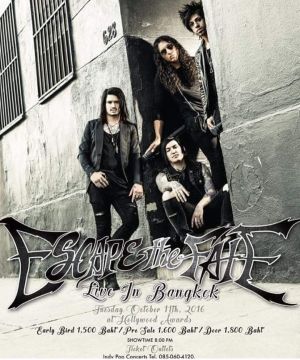 UNITED STATES
Escape the Fate / Nonpoint Co-Headlining Tour:
11/10 — Denver, Colo. @ The Summit Music Hall
11/11 — Salt Lake City, Utah @ In The Venue
11/12 — Idaho Falls, Idaho @ The Hitt Event Center
11/13 — Spokane, Wash. @ Knitting Factory
11/14 — Seattle, Wash. @ Studio 7
11/16 — Portland, Ore. @ Hawthorne Theatre
11/17 — Santa Cruz, Calif. @ The Catalyst
11/18 — Fresno, Calif. @ Strummer's
11/19 — Orangevale, Calif. @ Boardwalk
11/20 — Pomona, Calif. @ The Glass House
11/21 — West Hollywood, Calif. @ Whiskey A Go Go
11/22 — Phoenix, Ariz. @ Joe's Grotto
11/23 — Farmington, N.M. @ Top Deck
11/25 — El Paso, Texas @ Tricky Falls
11/26 — Lubbock, Texas @ Jake's Sports Café
11/27 — San Antonio, Texas @ Alamo City Music Hall
11/29 — Houston, Texas @ Scout Bar
11/30 — Dallas, Texas @ Trees
12/01 — New Orleans, La. @ House of Blues
12/02 — Clarksville, Tenn. @ The Warehouse
12/03 — Chicago, Ill. @ House of Blues
Photo credit: Megan Leetz//Bury the Hatchet Tour//February 5, 2014//House of Blues Chicago